Donald Trump Jr, son of the outgoing US President Donald Trump, said that the United States has become a laughing stock in the world, asking: "Big technology is able to censor the president?", After the social media imposed a ban on Donald Trump's accounts recently.
Donald Trump, Jr., said through his personal account on Twitter this evening: "The world is laughing at America … Big technology is able to impose censorship on the president? … freedom of expression has died and is controlled by the leaders of the left.".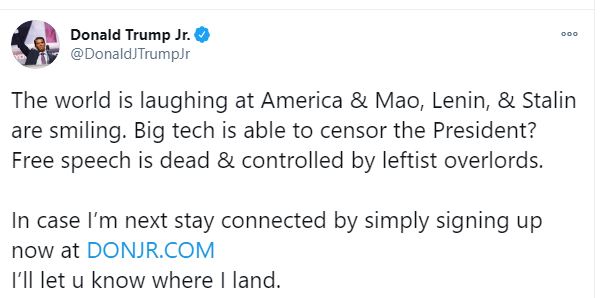 Trump's son via Twitter
The son of the outgoing US President Donald Trump directed a sharp attack on what he described as censorship of freedom of speech, following the closure of Twitter's account of Trump, Friday, and Junior said earlier: "Freedom of speech is under attack, censorship occurs as never before."
In a related context, Twitter had said that it had permanently suspended the account of the US President, Donald Trump, due to the risk of its exploitation in inciting more violence.
The company said in a statement: "After carefully reviewing the recent tweets issued by President Donald Trump's account and the context surrounding them, and specifically how they were received and interpreted on and off the site, we have permanently suspended the account due to the risk of further incitement to violence."".
While US President Donald Trump said that he would consider building his own platform after Twitter banned his account permanently on Friday, fearing further incitement to violence after hundreds of his supporters stormed Congress on Wednesday, and Trump posted his last tweets on the president's account after it banned Twitter His personal account.