Turkish press reports revealed that the Galatasaray club management rejected the conditions set by the Egyptian international Mohamed Elneny, the Arsenal player, to move to the Fateh Tarim team during the summer transfer period, which will be closed during the next few days.
According to the newspaper,FanatikThe Turkish newspaper, through its official account on the social networking site "Twitter", confirmed that Muhammad Al-Nani requested an extended contract for 4 years, in addition to a salary of 2.5 million euros per season.
The newspaper pointed out that Galata club president Burak Elmas rejected the conditions set by the Egyptian player to move to his ranks during the current transfer period.
The name of Mohamed El-Nini was linked to leaving Arsenal after he left the accounts of coach Mikel Arteta, although he did not participate in the team's big losses recently, except for the Manchester City match, in which he was present during the second half of the match.
The newspaper confirmed that the cost of the deal, as requested by Mohamed Elneny, will reach 15 million euros, including taxes and fees for the player's transfer from his club, other than the salary.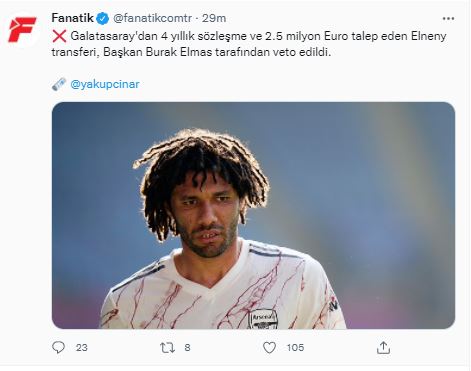 Mohamed Elneny imposes his conditions
In a related context, Turkish press reports revealed today, Thursday, that negotiations had begun between the Turkish club Besiktas and his English counterpart Arsenal in the past hours in order to resolve the transfer deal for Mohamed El-Nini, the Egyptian midfielder, before the transfer market was closed.
According to the Turkish newspaper, "Milliyet", the Turkish club Besiktas made an official offer to its English counterpart, Arsenal, to obtain the services of the Egyptian international, Mohamed Elneny, before the transfer market was closed.
The transfer market in Turkey ends on September 8, and there is an opportunity for Besiktas to sign Mohamed Elneny at the request of coach, Sergin Yalcin.
Besiktas' strong interest in the return of his former player comes in conjunction with the desire of his rival and rival Galata Saray, a professional in his Egyptian international ranks, Mustafa Mohamed to include Elneny.
According to the newspaper, Besiktas club submitted an official offer to Arsenal to sign the player due to the competition between him and Galatasaray.
The two clubs are seeking to settle the Mohamed Elneny deal before tomorrow morning, Friday, September 3, and close the European registration date from "UEFA" in the European Champions League and European League.
Besiktas is participating in the Champions League, while Galata Saray reached the group stage of the European League.
Galatasaray club intends to pay an amount ranging from 3 to 4 million euros to Arsenal to join Elneny, especially since the contract of the Egyptian pharaoh ends in June 2022