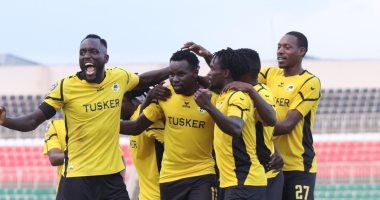 The Tusker team, rival of Zamalek in the African Champions League, won the Kenyan Super Cup for the third time in its history, at the expense of Gor Mahia on penalties..
The match ended in a 1-1 draw for each team, before Tusker won the injury kicks 8-7.
In the beginning, Gor Mahia advanced through Sami Onyango in the 54th minute from a penalty kick, then Ibrahim Joshua to Tusker equalized with another penalty kick just two minutes later..
The match headed to a penalty shootout, which favored Tusker, who scored 8 kicks out of 10 shots, while Gor Mahia scored 7 kicks out of 11 kicks..
Zamalek will face the Egyptian champion, the Kenyan Tusker, in the round of 32 that qualifies for the group stage stage, one of the days of 15, 16, 17 next October, in search of achieving the Champions League title, which has been absent from the Egyptian league champion for 19 years..
Tuscar qualified for the round of 32 after defeating Arta Solar by four goals to one in the aggregate of the two matches..
For his part, Robert Matano, coach of the Kenyan Tusker team, spoke about the upcoming confrontation with Zamalek in the 32nd round of the African Champions League competitions in the new version..
newspaper quotes "Natio Africa" Tusker coach's statements, saying: "My team, which includes 12 new players, achieved a great performance against Arta Solar, Djibouti. What we have been doing in training throughout the last period with the players was reflected in the last match against Arta Solar, noting that the new players are shining well with the team's players.
Matano added: "The match witnessed great brilliance from our attackers and we would have scored more goals because they followed the instructions, our focus now is on the Super Cup match on Tuesday against Gor Mahia..
And the Kenyan Tusker coach continued: "We will continue to work hard and when the time comes we will develop a strategy for how to deal with Zamalek, but now there are other matches in the league and the Super Cup, and this is what we focus on."".