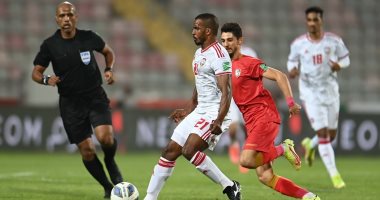 The positive tie was decided against the UAE team and its Syrian counterpart, with a goal for each of them, in the confrontation that took place between them this evening, Tuesday, at King Abdullah II Stadium in Jordan, as part of the second round of the Asian qualifiers for the World Cup "Qatar 2022",
Ali Mabkhout scored the goal for the UAE team in the 12th minute of the match, taking advantage of the Syrian goalkeeper's mistake, then Mahmoud Al-Bahr equalized for Syria in the 64th minute of the match.
Emirati star Ali Mabkhout, striker of Al Jazira club, entered history after scoring the goal of his country's national team against his Syrian counterpart.
Mabkhout raised his score to 77 goals in a career with the UAE national team, during his participation in 94 matches, to overtake Argentine star Lionel Messi in the list of the best international scorers with national teams throughout history, where Al-Barghout has 76 goals with the Tango dancers.
Mabkhout became the seventh best international scorer with national teams throughout history, equal to the Brazilian football legend, Pele, who scored 77 goals with the Seleção.
The Emirati star also ranked second in the list of the best international scorers who are still active in the stadiums, to come behind the Portuguese star Cristiano Ronaldo, the leader with 111 goals.
With this result, the UAE team raises its score to two points to occupy the third place in the first group standings in the Asian qualifiers, while the Syrian team scored the first point in its career to come in fifth place.
The Syrian team lost in the first round of Iran at the latter's stadium, while the UAE team achieved a negative draw with Lebanon, in the first round in the match that was held in Dubai.