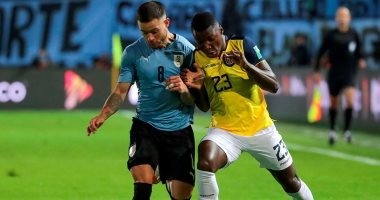 Uruguay snatched a fatal victory from its Ecuadorian guest, with a clean goal, in the match that brought the two teams together in the early hours of Friday, at the "Centenario" stadium, as part of the tenth round of the South American qualifiers for the 2022 World Cup in Qatar.
Gaston Pereiro scored the goal of Uruguay's victory in the match in the second minute of stoppage time for the match, from a wonderful header, which was placed to the left of the Ecuador goalkeeper.
Uruguay raised its score to 15 points to occupy third place in the qualifiers table, which is led by Brazil with 21 points, while Ecuador's balance stopped at 13 points in fourth place.
In the last round, the Celeste team defeated Bolivia 4-2.
In another match, Paraguay beat its Venezuelan guest, 2-1, in the meeting that brought them together at the "Defensores del Chaco" stadium.
Paraguay's goals were scored by Hector Martinez and Alejandro Romero in the 7th and 46th minutes, while Venezuela's only goal was scored by John Chancellor, in the last minute of the match.
Paraguay raised its score to 11 points in sixth place, while Venezuela's balance stopped at 4 points in tenth and last place.