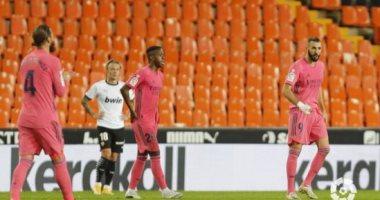 Real Madrid is facing a strong confrontation with its host Valencia, in the top of the fifth round of the Spanish League, scheduled for Sunday at nine in the evening, at the "Mestalla" stadium, after it achieved an exciting victory over its host Inter Milan, last Wednesday evening, with a clean goal, in The first rounds of the Champions League group stage.
Real Madrid, led by its Italian coach, Carlo Ancelotti, is seeking to continue its victories in all competitions during the current season, after winning 4 games and drawing one, but it will hit the knot of not beating Valencia in its stronghold since January 2018 in La Liga.
The last victory that the royal achieved in the "Mestalla", the stronghold of the bat team, was on January 27, 2018, with a score of 4-1. The Portuguese star Cristiano Ronaldo scored two goals, along with a goal for Marcelo and Toni Kroos, while the goal of Valencia was Santiago Mina.
Real Madrid lost two games and tied one match during its last 3 visits to the Valencia stronghold. It was defeated during the 2018-2019 season, with a score of 2-1, and a draw 1-1 in the following season, and lost 4-1 last season.
Real Madrid won a big victory in the last round against its guest, Celta Vigo, 5-2, in the first appearance of the royal team at the "Santiago Bernabeu", since it was closed in March 2020, due to the comprehensive renovations.
Real Madrid leads the Spanish league standings with 10 points, ahead of Valencia, who has the same number of points.