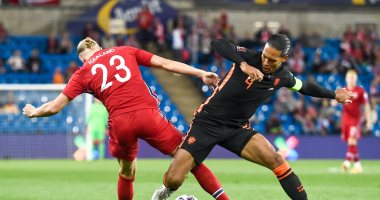 International defender Virgil van Dijk removed a fan who tried to photograph him while he made statements after the Netherlands match against Norway, which ended in a 1-1 draw in the current confrontation, at the "Leval Stadium", in the fourth round of the European qualifiers for the finals. World Cup 2022 in Qatar.
And Virgil van Dijk was surprised by one of the fans asking him to photograph, which made him remove him permanently during his televised statements after the match.
The goals of the match were opened by Erling Haaland, the star of the Norwegian national team and Borussia Dortmund, in the 20th minute of the match, before the Dutch team tied with Dave Claassen in the 37th minute of the match.
With this result, Dutch coach Louis van Gaal failed to win his first official match after taking over the job.
Dutch coach Louis van Gaal is leading his country for the third time. Won the bronze medal in the 2014 World Cup, which was held in Brazil.
And the balance of the Netherlands stopped from the seventh point, after dropping two points on Wednesday evening, to occupy the second place in the Group G standings of the European qualifiers for the World Cup.
And the Dutch international Virgil van Dijk returned to the formation of the team again after the absence of the national team of the mills in the European Nations Cup "Euro 2020" last.
The Netherlands national team played the match with a formation consisting of
Goalkeeper: Big Low.
Defense Line: Timber – De Vrij – Van Dyck – Blind.
Midfield: Wijnaldum – Frank de Jong – Claassen.
Forwards: Bergwis – Memphis Depay – Jakbo.
The Netherlands team won two victories over Latvia and Gibraltar, while it fell to Turkey, while the Norwegian team defeated Gibraltar and Montenegro, while also losing from the Turkish team.