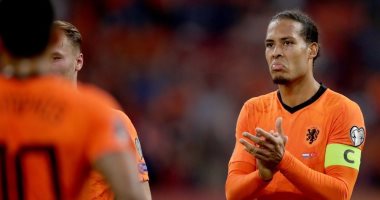 The captain of the Dutch national team, Virgil van Dijk, reassured the fans of Liverpool, after suffering a minor injury during the Netherlands team's match against his Turkish counterpart, which ended with his team 6-1, in the confrontation that brought the two teams together on Tuesday evening at the "Johan Cruyff" stadium, in the sixth round of the tournament. European qualifiers for the 2022 World Cup.
Netherlands national team
"Fortunately I'm fine, it's just a big blow, maybe because I'm so big and so big, people think I'm acting or pretending!" Van Dijk said in brief statements after the match.
After the match, Van Dijk posted a tweet on his Twitter page, saying: "Proud of the leadership today, great performance in all respects, what a great atmosphere too! Now is the time to return to Liverpool and prepare for the two difficult weeks ahead of the heart of orange."
The goals came 3 in each watt, as the goals of the Dutch team were scored by Davy Claassen in the first minute, and the brilliant Memphis Depay (two goals) in the 16th and 38th minutes from a penalty kick.
Moments before the end of the first half, Turkey and Leicester City defender Caglar Soyuncu received a red card after receiving the second yellow card.
In the second half, Al-Tawahin scored a new hat-trick, which came through Memphis Depay, Gus Tell and Donil Malin in the 54th, 80th and 90th minutes, while Cengiz Under scored Turkey's only goal in the 92nd minute.
The formation of the Netherlands team is as follows: Goalkeepers: Belo / Defense: Dumfries, De Vrij, Van Dijk, Blind / Midfield: Wijnaldum, De Jong, Claassen / Attack: Berguis, Depay, Bergwijn.
With this result, the Netherlands team topped Group F with 13 points, with a goal difference from Norway, which occupies the same balance, while the Turkish team fell to third place with 11 points.
The Dutch national team beat its guest Montenegro 4-0, during the meeting that brought the two teams together last Saturday evening at the "Philips" stadium in Eindhoven, in the fifth round of Group G in the group stage of the European qualifiers for the 2022 World Cup in Qatar..
In the last round, the Turkish team defeated Gibraltar, with three goals, at the "Victoria" Stadium.