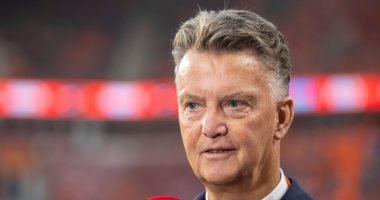 Dutch coach Louis van Gaal expressed his satisfaction with the great victory of his counterpart Montenegro by 4 clean goals, during the meeting that brought the two teams together on Saturday evening at the "Philips" stadium in Eindhoven, in the fifth round of Group G in the group stage of the European qualifiers. Qualification for the 2022 World Cup Qatar.
"We started very badly, but in the end we were more cautious than facing Norway, in Norway we started well, but the match was not good, but today, the seventy minutes after the opening was good," Van Gaal said, during his statements after the match.
He added: "We have outnumbered Montenegro completely, we have had a little time and we still have to get to know each other well, but if you can beat such a defensive team 4-0, it gives a boost to the next game."
He continued: "I saw Depay as if he was traveling in a race, I think he ran eleven kilometres, well, not many strikers do that, and Frenkie de Jong played very well, that's what I told him."
Holland vs Montenegro
The first goal came in the 38th minute through Barcelona star Memphis Depay from a penalty kick. The first half ended with Al-Tawahin leading 1-0.
In the second half, Depay added the second goal for him and his country in the 62nd minute, then Wijnaldum scored the third goal in the 70th minute, before Jodi Jakbo ended the quartet in the 76th minute.
The formation of the Netherlands national team was as follows: Goalkeepers: Belo / Defense: Dumfries, De Vries, De Ligt, Malacia / Midfield: Wijnaldum, De Jong, Claassen / Forwards: Berguis, Depay, Jakbo
With this result, the Dutch team ranked second in Group F with 10 points behind the leaders Turkey with 11 points, which defeated Gibraltar with three points, while Montenegro is in fourth place in the standings table with 7 points.