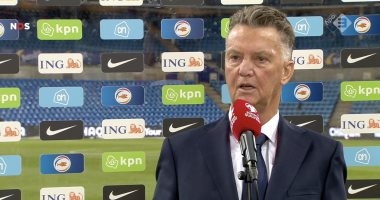 Dutch coach Louis van Gaal expressed his deep sadness over the disappointing tie that the team fell against Norway in the match that was held on Wednesday evening and ended in a 1-1 draw, at the "Waleval Stadium", in the fourth round of the qualifiers. Europe qualifying for the 2022 World Cup in Qatar.
"We were not in our situation, and this is also due to the defense of the opponent, which is shrinking without spaces," Van Gaal said in statements after the match.
Van Gaal added: "We had to be creative and solid on our balls, we lost the ball in unnecessary situations, none of the players were at his level today.". And"I think De Vries played really well," the Netherlands coach explained.
Louis van Gaal stressed: "The Netherlands is not a world team, we have to play as a team, Norway played really well as a team." Van Gaal continued: "I think it's too early to say we shouldn't play 4-3-3, I'm just saying we were mediocre and ineffective on the wings.". Van Gaal concluded: "Turkey drew, I'm very lucky, but if we don't beat them, we don't deserve to be top of the group."
With this result, Dutch coach Louis van Gaal failed to win his first official match after taking over the job.
Dutch coach Louis van Gaal is leading his country for the third time. Won the bronze medal in the 2014 World Cup, which was held in Brazil.
And the balance of the Netherlands stopped from the seventh point, after dropping two points on Wednesday evening, to occupy the second place in the Group G standings of the European qualifiers for the World Cup.
And the Dutch international Virgil van Dijk returned to the formation of the team again after the absence of the national team of the mills in the European Nations Cup "Euro 2020" last.
The Netherlands team won two victories over Latvia and Gibraltar, while it fell to Turkey, while the Norwegian team defeated Gibraltar and Montenegro, while also losing from the Turkish team.