Venezuelan player Laura Biondo breaks two records in "Freestyle" football", where she was able to break the records recorded in the Guinness Book of Records, where she succeeded in making the ball jump while sitting 62 times within 30 seconds, as well as Laura made 24 circular jumps for the ball without falling to the ground in just one minute, and in a comment on her achievement, Laura said: "I am very happy to break two numbers You can achieve any goal if you stick to it, and that's what you did today", according to Sky News.
To earn the title of football crossover, Laura not only needed to demonstrate her playing abilities, but also had to control the rest of her body as the guidelines required both hands to remain on the ground throughout the entire attempt.
During her 12 years as a freestyle professional, she has won numerous international titles and is the only non-European woman to win a world championship, and Laura says she is proud to represent Venezuela, Latin America and the entire American region and draw attention to freestyle talent there, according to the official Guinness website.
As for breaking records, Laura continues to try to get new titles to challenge herself and stay motivated, as she now has a total of 13 titles, which she describes as feeling "cool".
back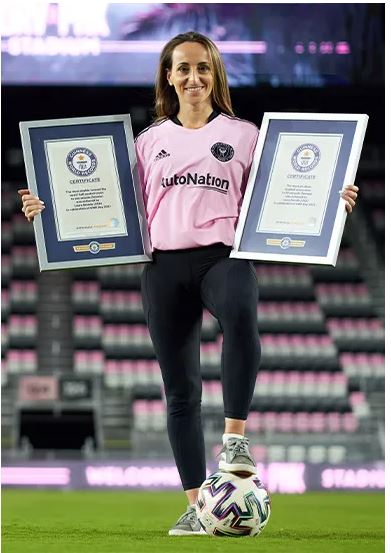 Lura