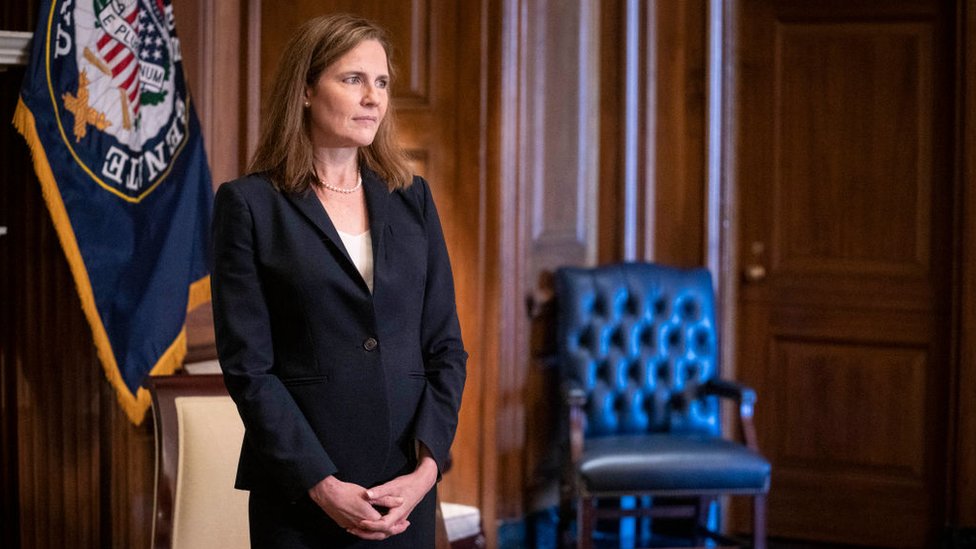 US Vice-President Mike Pence is expected to miss a vote confirming Donald Trump's Supreme Court nominee, his aides have said.
Mr Pence will reportedly stay in Minnesota where he is campaigning.
Democrats are trying desperately to delay the vote as the Republican-controlled Senate nears confirmation.
In protest at the imminent approval of Amy Coney Barrett, Democrats are making speech after speech to stretch the debate to its maximum limit.
But Judge Barrett is all but certain to be confirmed in a vote on Monday evening. Afterwards she will take the oath at the White House, administered by Justice Clarence Thomas, a senior White House official said.
Democrats are criticising the rushed nomination process – on the eve of a presidential election – as a "sham".
Judge Barrett's lifetime appointment would cement a 6-3 conservative majority on the nine-member court, tilting the ideological balance of the court for potentially decades to come.
The 48-year-old would be the third justice appointed by the Republican president, after Neil Gorsuch in 2017 and Brett Kavanaugh in 2018.
Judge Barrett is likely to be confirmed with senators dividing mostly along party lines, and every Democrat voting against.
Chuck Schumer, the Democratic minority leader, vowed that the party would "not stop fighting" as his colleagues took to the floor of the Senate to denounce the proceedings.
Mr Schumer also attempted to stop Mr Pence from appearing in the chamber, tweeting that he "cannot come to the Senate" due to his recent exposure to aides diagnosed with Covid-19.
As vice-president, Mr Pence is the president of the Senate, a largely ceremonial role. He has faced criticism for not self-isolating despite exposure to a senior aide who has tested positive for Covid-19.
His staff confirmed that the vice-president tested negative for coronavirus on Monday.
New York Democrat Kirsten Gillibrand accused Republican colleagues of "stunning" hypocrisy in hurrying Judge Barrett's confirmation through.
"The weeks we should have spent negotiating a real relief package, have instead been spent rushing through a Supreme Court justice," she said.
Richard Blumenthal of Connecticut accused Mrs Barrett of holding views that will restrict expansion of American liberties.
Republicans meanwhile have praised Judge Barrett on her judicial record, and celebrated the prospect of establishing a robust and likely long-term conservative majority on the nation's highest court.
"The Senate is doing the right thing. We're moving this nomination forward, and colleagues, by tomorrow night, we'll have a new member of the United States Supreme Court," said Senate Majority Leader Mitch McConnell on Sunday.
They expect a confirmation vote by 20:00 local time (midnight GMT).
What's at stake?
The lifetime appointees to the Supreme Court help shape public policy for decades. In recent years, the court has expanded gay marriage to all 50 states, allowed Mr Trump's ban on mainly Muslim majority countries to remain in effect, and delayed a US plan to cut carbon emissions.
Democrats fear that Judge Barrett's successful nomination will favour Republicans in politically sensitive cases that reach the top court, from healthcare to voting and election challenges.
Conservatives hope she will rule against the Affordable Care Act – a health insurance scheme introduced by former President Barack Obama. Some 20 million Americans could lose their health care coverage if the court overturns the legislation, also known as Obamacare.
And as a devout Catholic, Mrs Barrett is a favourite among religious conservatives who hope she will overturn Roe v Wade, the 1973 Supreme Court decision that legalised abortion nationwide.
"We've made an important contribution to the future of this country," said Mr McConnell on Sunday. "A lot of what we've done over the last four years will be undone sooner or later by the national election. They won't be able to do much about this for a long time to come."
A lasting victory for Donald Trump
It's eight days until the presidential election, but Donald Trump is poised for another kind of victory – one that, even if he loses next week, will shape US politics for decades to come.
Polls suggest that changing the ideological balance of the US court system was one of the reasons Republicans, particularly evangelical Christians, overwhelmingly supported Mr Trump four years ago, despite questions about his personal behaviour.
"The Lord works in mysterious ways," was a common refrain from religious conservatives asked to explain their vote for Mr Trump.
With the president about to again deliver on his promise to reshape the US judiciary, it could serve as extra motivation for these same conservatives to reward him at the polls next week. Or, perhaps, they will become complacent. The latter explains why the Trump campaign has spotlighted Democratic calls to court reforms, including adding new justices to the Supreme Court. Such a move could undo the gains Republicans have made under Mr Trump.
Such a significant reform seems unlikely without Joe Biden's explicit support, however, leaving the Trump campaign to hope that when it comes to turning out their voters next week, gratitude will be as strong a motivator as fear.
Who is Amy Coney Barrett?
Favoured by social conservatives due to record on issues like abortion and gay marriage
A devout Catholic but says her faith does not influence her legal opinion
An originalist, which means interpreting US Constitution as authors intended, not moving with the time
Lives in Indiana, has seven children including two adopted from Haiti
What does this mean for the election?
Judge Barrett's nomination could also have major ramifications for the 3 November presidential election.
Millions more Americans are expected to vote by mail this year because of coronavirus, meaning a delay in counting all the votes is highly likely. As a result, there is a chance that the early leader on election night may not be the ultimate winner.
President Trump, who has repeatedly expressed unfounded scepticism over the legitimacy of postal ballots, has said he believes the election result could end up in the US Supreme Court. Various legal challenges could emerge this year, ranging from the identification requirements for postal voting, to the legality of Covid-related changes to voting.
During her confirmation hearing, Democrats pressed Judge Barrett on whether or not she would recuse herself from cases involving the 2020 election, raising alarm that the new justice may favour the president who had nominated her just weeks before.
Judge Barrett refused to answer outright, saying only that she would take the issue seriously.