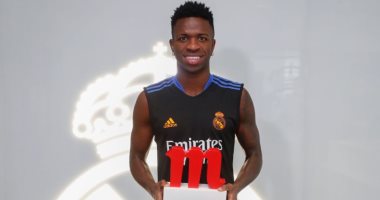 Brazilian Vinicius Junior, Real Madrid's winger, won the award for the best player within the royal club last August. Vinicius Jr. won the award.Mahou"One of Real Madrid's sponsors as the best player in the Royal during the month of August.
The Brazilian Vinicius Junior participated in 3 matches with Real Madrid, against Deportivo Alaves, Levante and Real Betis, and scored 3 goals.
Vinicius Junior has scored 5 goals from a total of 5 matches he played with Real Madrid this season, and is ranked second in the league's top scorer table, succeeding Karim Benzema, the leader with 6 goals.
In general, the Brazilian Vinicius Junior participated in 6 matches with Real Madrid in all competitions, and scored 5 goals.
It is worth noting that Real Madrid is at the top of the Spanish league standings, with 13 points, and two points behind Atletico Madrid, the runner-up, with 11 points.