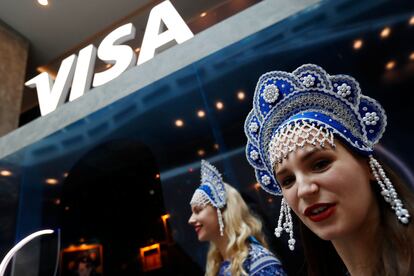 The American card and payment method companies Visa and Mastercard have decided this Saturday to suspend all their operations in Russia due to the invasion of Ukraine and the economic uncertainty posed by the sanctions imposed by the international community against Moscow.
The announcement by both companies comes hours after Ukrainian President Volodymyr Zelensky urged a group of US lawmakers to exclude Russia from the international payments system. The announced suspensions will prevent Mastercard and Visa cards issued by Russian banks from working in other countries and will block cards issued abroad from buying Russian goods and services. Instead, cards issued by Russian banks with the Visa or Mastercard logo will be able to continue to work within the country because those transactions are in the hands of a local operator.
"We are forced to act after the unprovoked invasion of Ukraine by Russia and the unacceptable events we are witnessing," said Al Kelly, president and CEO of Visa, in statements collected by the Reuters agency. "This war and the constant threat to peace and stability demand that we respond in accordance with our values."
For its part, Mastercard has appealed to "the unprecedented nature of the current conflict and the uncertain economic environment" to justify its decision to suspend its network services in Russia. "This announcement follows on from our recent decision to block multiple financial institutions from the Mastercard payment network, as required by regulators globally," the company statement explains.
Russia's largest banks, including Sberbank, the country's largest lender, and Russia's central bank, dismiss the effects of the measures. "All bank cards issued by Russian banks will continue to work until the expiration date," the Bank of Russia said. Sberbank added that they can be used "for cash withdrawals, making, transfers using the card number and for payments in Russian stores, both online What offline".
The withdrawal of Visa and Mastercard is the latest measure in a wide range of retaliation against the Kremlin, which includes sanctions, but also cancellations and suspensions of commercial activity and other services, such as the international interbank payment platform SWIFT, which excluded Russia three days ago. The luxury brand Prada has announced this Saturday that it will stop selling in Russia, as well as the sports equipment firm Puma. The Spanish group Inditex, owner of Zara, will temporarily suspend activity in the 502 stores it has in Russia, as will the Spanish jewelry chain Tous. The giant IBM has also announced this temporary suspension of activities.
Join EL PAÍS to follow all the news and read without limits.
subscribe
Added to the economic boycott is a campaign of cancellations in the world of culture, with the veto of illustrious artists such as the soprano Anna Netrebko or the conductor Valeri Gergiev, among others, for not retracting their well-known support for the Kremlin leader.