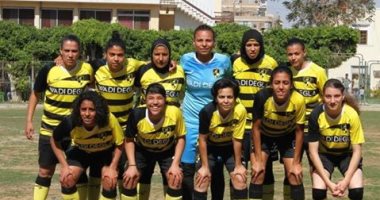 The draw for the African Champions League for women, which will be held in Egypt next month, was held this evening, Wednesday, with the participation of 8 clubs, in which Wadi Degla represents Egyptian football.
The draw for the first edition of the CAF Women's Champions League saw Wadi Degla in the first group of the tournament, which includes Mali's Mandela, Malabo Kings overlooking Equatorial Guinea, and Ghana's Secondi Hasakas.
The second group included Kenya's Fehija Queens, South Africa's Sundowns, Morocco's Difaa Al-Hassani El Jadida and Nigeria's River Angels.
Egyptian football is represented in the first edition of the African Champions League, Wadi Degla Club, as the champion of the Women's Premier League last season, where the Cairo club hosts the activities of the first tournament after Egypt submitted a request to host it.
The tournament will be held from 5 to 19 November, where the tournament will be held by dividing the eight teams into two groups, and the winners, first and second from each group, will qualify for the semi-finals of the tournament.
And 7 clubs that qualified for the tournament after going through the qualification stage are participating in the tournament, to be added to Wadi Degla, whose women's team is participating as the Egyptian League champion and organizer of the African Champions League for the first women.
The participating clubs in the tournament, besides Wadi Degla, are the Royal Moroccan Army, Mali's Mandi, the Ghanaian champion Haskas, the Rivers England champion, the Malabo Kings, the champion of Equatorial Guinea, the Kenyan champion Vihija Queens, and the South African Sundowns Women's Club.
The qualifiers came after the brown continent was divided into 6 sectors, next to the organizing country in which the league champion participates. West Africa, after being divided into two qualifiers, a team from one qualifier and two teams from another qualifier are promoted.