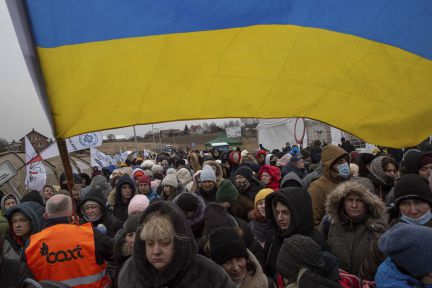 What has happened in the last hours after the invasion of Russian troops in Ukraine
It is 12 days since the war in Ukraine began. These are the key data at 2:00 p.m. (Spanish peninsular time) this Monday:
Negotiations continue. At 3:00 p.m. (Spanish peninsular time), a new meeting is scheduled to be held between the delegations of Russia and Ukraine in Belarusian territory. This third meeting comes after the failure to establish humanitarian corridors for the evacuation of civilians, the delivery of food and medicine. The Ukrainian authorities have described as "immoral" the evacuation routes proposed by the Kremlin that culminate in Russia and Belarus. In parallel, the Ukrainian Foreign Minister, Dmitro Kuleba, and his Russian counterpart, Sergei Lavrov, will meet on Thursday in Antalya, Turkey.
China proclaims itself mediator in the conflict. Beijing has adopted what some experts have described as a "slanted neutrality," leaning toward Moscow. Russia has become a strategic partner with which the Asian giant has gradually strengthened relations in the last decade. Foreign Minister Wang Yi has assured that the Chinese Red Cross will send humanitarian aid to Ukraine "as soon as possible".
The siege of Kiev tightens. Vitali Klichko, mayor of the Ukrainian capital, has warned in his Telegram account that "intense fighting is taking place outside of Kiev, where the enemy is trying to finish off Gostomel, Bucha, Vorzel and Irpin [ciudades en el noroeste de la capital ucrania] and kills civilians with extreme violence." The city prepares to resist a long siege.
Orbán prohibits the passage through Hungary of weapons to Ukraine. Budapest will allow the deployment of NATO in its territory, which borders Ukraine to the southwest.
The refugee crisis worsens. The Ukrainians who have had to leave their country now number 1.73 million, of which more than a million are in neighboring Poland, according to the United Nations Refugee Agency (UNHCR). The High Representative of the European Union for Foreign Affairs and Security Policy, Josep Borrell, estimates that five million Ukrainians will leave the country in the coming days if the Russian bombing continues.
Zelensky calls for a boycott of Russian exports. The president of Ukraine has also demanded to block imports to Russia. The request was made on the same day that a barrel of Brent oil reached an all-time high of 128 euros for fear of further sanctions against the Russian hydrocarbon market. The United States, the European Union, Canada and the United Kingdom are still studying new sanctions.
The exit of companies from Russia continues. Jeans maker Levi Strauss is the latest to temporarily suspend business operations in the country. It joins the list of other companies such as Inditex, Netflix, Spotify, TikTok and the textile company Next, among others.
In the image, hundreds of Ukrainian refugees arrive at the border with Poland (Visar Kryeziu / AP).