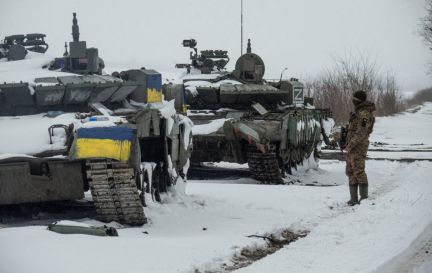 What has happened in the last hours after the invasion of Russian troops in Ukraine
On the tenth day of war, these are the key data at 8:00 p.m. this Saturday:
Putin maintains that Western sanctions are equivalent to a "declaration of war". Russian President Vladimir Putin considers that the sanctions that the West has imposed on Russia for the invasion of Ukraine are equivalent to a "declaration of war", as indicated this Saturday. The financial measures that Western countries have taken against Moscow to suffocate the country have shaken the economic foundations: ATMs have run out of money and some prices have risen by more than 30%.
400 people manage to leave Volnovakha while the bombing continues. Russia had announced this Saturday a five-hour ceasefire to open humanitarian corridors in the towns of Volnovaja and Mariupol. But the Ukrainian authorities have stopped the evacuation because the Russian bombing has not stopped. Barely 400 people have been evicted from Volnovaja, while some 15,000 inhabitants wait to leave the city. Later, Russian forces have officially resumed attacks and are carrying out a wide offensive seizing several towns and villages, the Interfax news agency reported, citing the Russian Defense Ministry.
Ukraine announces that talks with Russia will resume on Monday. David Arakhamiya, one of the Ukrainian negotiators with Russia, has announced on Facebook that talks between the two countries will continue on Monday, March 7.
The Israeli prime minister meets with Putin in Moscow. Israeli Prime Minister Naftali Bennett met this Saturday in the Kremlin with Russian President Vladimir Putin to hold talks on the war in Ukraine, according to an Israeli government spokesman. Bennett has offered in recent days to mediate between Russia and Ukraine after speaking on the phone last Wednesday with Putin and Ukrainian President Volodymyr Zelensky.
More than 8,200 people have been arrested in Russia for protesting against the war. 8,283 people have been arrested in Russia since February 24 for protesting against this country's invasion of Ukraine, according to the civil rights portal OVD-Info. At least 2,749 people have been detained in Russia's second largest city, Saint Petersburg, and 3,888 in the country's capital, Moscow.
RTVE temporarily stops reporting from Russia. The public television network has announced that it will temporarily stop reporting from the country after the entry into force of a law that provides for 15 years in prison for spreading "false information". RTVE thus follows the path of other channels such as the British BBC, the German ZDF and ARD, the Italian RAI, and the American CNN, the Canadian CBC or the Bloomberg news agency.
In the image, a Ukrainian soldier next to two captured Russian tanks, in the north of the Kharkov region, on Saturday. The photo is from Irina Rybakova. You can see more photos of the day here.