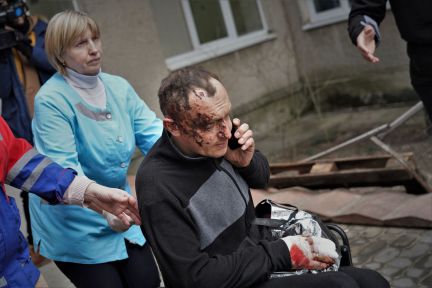 What has happened in the last hours after the invasion of Russian troops in Ukraine
On the 18th day of the war initiated by Russia against Ukraine, these are the key data at 2:00 p.m. this Sunday, March 13
At least 35 killed in the attack on a military base near Poland. The Russian Army has launched 30 missiles at dawn on Sunday against a Ukrainian military base located in the Lviv region (Lviv, west), just about 25 kilometers from the border with Poland, a member country of both the European Union like NATO. The governor of the Lviv region has indicated that the attack has caused at least 35 deaths and 134 injuries.
125,000 evacuated through humanitarian corridors. The President of Ukraine, Volodímir Zelenski, has assured in a video published on his social networks that "125,000 people have been evacuated to safe areas through humanitarian corridors." The president has recalled that this Sunday the departure of civilians from Mariupol, in the south of the country, and one of the cities most bombed by Russian troops, is key. Ukrainian convoys are 80 kilometers away.
Kyiv supplies itself. The capital of Ukraine prepares for the siege of Russian troops. Local authorities have reported that they have managed to accumulate a two-week supply of essential food so that citizens can feed themselves in case the Ukrainian capital is besieged. Russian troops are less than 30 kilometers from the city.
Almost 2.7 million refugees. Ukrainians who have fled their country as a result of the Russian invasion now number 2.69 million, according to figures updated daily by the United Nations Refugee Agency (UNHCR). More than half of this exodus has reached neighboring Poland, which hosts 1.6 million Ukrainian refugees, while 246,000 are in Hungary, 195,000 in Slovakia, 105,000 in Russia, 104,000 in Moldova, 84,000 in Romania and some 900 in Belarus, among other countries.
An American journalist dies in a Russian attack near Kiev. Brent Renaud, American video journalist and former contributor to the newspaper The New York Timeshas died in a Russian attack in the city of Irpin, southwest of Kiev, as confirmed by the region's police chief on his Facebook account.
Poland warns of the use of chemical weapons by Putin. Andrzej Duda, president of Poland, has assured in an interview this Sunday on the BBC that if Russia uses chemical weapons in Ukraine, it can make NATO reconsider its decision not to intervene in the country. "If you ask me if Putin can use chemical weapons, I think at this point he can use anything, he is in a very difficult position," he has said.
In the image of Luis de Vega, a soldier wounded in the attack on the Lviv military base this Sunday.