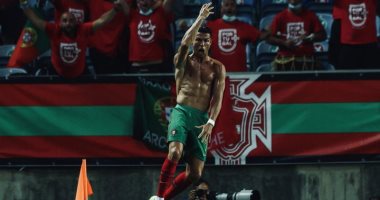 The Portuguese star, Cristiano Ronaldo, was the world's top scorer at the national team level, after scoring his country's double in the 2-1 victory over Ireland last Wednesday, at the "Algarve" stadium in Faro, in the fourth round of Group A of the European qualifiers for the 2022 World Cup. .
Ronaldo reached his 111th international goal with Portugal in 180 international matches, to be the only player in history to score in international matches, two goals ahead of former Iranian star Ali Daei, who scored 109 goals.
Cristiano Ronaldo's goals with the Portuguese national team were as follows
..
58 goals with the right foot
25 left-footed goals
28 goals from headers
Cristiano Ronaldo arrived in Manchester to start his career with United, with whom he signed a two-year contract from Juventus, after it was confirmed that he was absent from Portugal's match against Azerbaijan on Wednesday, due to the suspension due to the accumulation of yellow cards.
Ronaldo is also a record holder.
The best scorer in football history with 785 goals.
The all-time top scorer of the European Nations Cup with 14 goals.
The all-time top scorer in the Champions League with 134 goals.
Real Madrid's all-time top scorer with 450 goals.