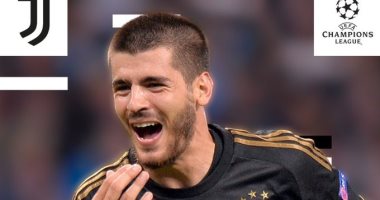 The official account of the Juventus club, through its official account on the "Twitter" website, highlighted the top 10 opening Champions League goals scored by the Juventus stars throughout history, before it was a heavy guest against its Swedish counterpart Malmo at nine in the evening, Tuesday, at the "Malmö Stadion", in the context of The matches of the first round of Group H of the European Champions League in a match in which the Italian football representative is looking to correct the course under the new coach Massimo Allegri.
The goals witnessed the presence of many players, most notably Alvaro Morata, the current Juventus striker, who was able to score before a previous in the Champions League in the opening match for Juve.
Juventus hopes to reconcile its fans by achieving a European victory, after it faltered at the beginning of the Italian League, as it has not achieved any victory so far after 3 rounds of the Calcio Championship, after drawing in the opening meeting and defeat in two meetings, the last of which was the Napoli match, which ended with two goals against. Goal.
The two teams met before in the group stage in 2014, and Juventus won the first leg at the Allianz Stadium, with two goals without a response from Argentine star Carlos Tevez, and the old lady's club repeated its victory in the second leg with two goals without return, through Fernando Llorente and Carlos Tevez.
In this edition, Juventus reached the final, but fell to Barcelona by three goals to one.
According to the Italian newspaper, Corriere dello Sport, Juventus fans, via social media, attacked goalkeeper Szczesny, due to the frequent mistakes that the goalkeeper makes.
The newspaper added that Juventus fans demanded the exclusion of the Polish goalkeeper and the reliance on Italian Mattia Perin in the upcoming matches.
The Juventus fans had previously attacked and criticized Chesney's performance in the Udinese match in the first round of Calcio, during which the Polish goalkeeper made a mistake and ended in a 2-2 draw, before repeating his mistakes against Napoli.
On the other hand, Malmo is looking forward to achieving the surprise in front of the old lady by winning or collecting at least one point, especially since the meeting is being held on his home ground and among his fans.
The eighth group of the Champions League includes Juventus of Italy, Chelsea of ​​England, Malmo of Sweden and Zenit Saint Petersburg of Russia.