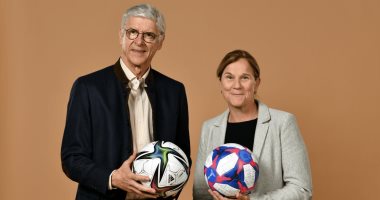 Arsene Wenger, FIFA Development Officer, and Jill Ellis, Women's Football Technical Advisory Group lead the consultation process with members of national associations, as the first virtual summit of representatives of all FIFA sports federations takes place as the current international match calendar is nearing completion. the men's and women's football championships by 2023 and 2024, respectively.
The International Federation published a statement saying: "The consultations confirm the need to ensure compatibility between men's and women's football tournaments as part of the ongoing consultations regarding setting a new agenda for international matches in the future. They accepted their clubs to join their national teams, which will contribute to the sustainable development of football in various regions of the world and at all levels.
FIFA will continue to hear over the coming months the views and opinions of all key stakeholders, including fans, on how to improve the match calendar for all men's, women's and youth competitions.
And before the convening of the first online summit with all the sports federations affiliated with FIFA, which was chaired by FIFA President Gianni Infantino in the framework of his keenness to establish a constructive and open dialogue, at the global and regional levels, in the coming months. Arsene Wenger and Jill Ellis provided insight into their joint approach at FIFA headquarters in Zurich, Switzerland.
"It's important that we make sure that the men's and women's games are compatible," said Ellis. The FIFA Women's World Cup 2019 was watched by more than a billion viewers which shows there is a desire to follow the tournament, so I think it's important for us to make sure we increase our footprint, to be even bigger. So living with the men's game makes perfect sense, and Ellis added that "it's important to get everyone's point of view and put it on our table for discussion.
For his part, Wenger emphasized that it is about connecting and listening to past players, current players, club coaches, national team coaches and getting their vision of things, when people come together and start sharing ideas, it allows to get a more complete understanding of what everyone is dealing with and what is The challenge everyone faces and what opportunities are available to everyone.
Wenger said he thought it was very important to start this process to understand what the challenges are that Europeans, South Americans, club coaches and national team coaches face in order to come up with a player-centric model so making sure they are represented in this process because it's a matter of very important ".
Wenger stressed that FIFA committed itself to reviewing the pace of competitions for men's, women's and youth national teams after the 166 member sports federations voted in the 71st FIFA Congress in May 2021 on a feasibility study being conducted to explore the potential impact of holding the FIFA World Cup and World Cup. FIFA Women every two years.
Wenger added that FIFA's long-term goal, which has already been stated by FIFA President Gianni Infantino, is to have 50 national teams and 50 clubs competing at the highest level in both the men's and women's game, in line with FIFA's vision 2020-2023. .