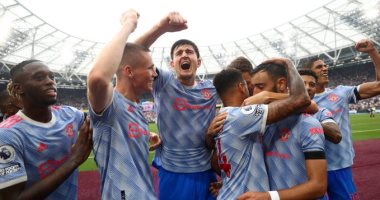 Manchester United set many records, after winning a precious 2-1 victory over West Ham in the match that brought the two teams together this afternoon, Sunday, in the fifth round of the English Premier League, at the London Olympic Stadium.
And the "Opta" network, which specializes in statistics, published many records achieved by Man United and its stars, the most prominent of which were as follows:
Manchester United have kept their unbeaten record away from home in the Premier League since February 2020.
"London Stadium" has become the 66th different stadium in which Cristiano Ronaldo has scored in the five major European leagues, more than any other player since his debut with Manchester United in 2003/04, ahead of Zlatan Ibrahimovic (64 stadiums)..
West Ham became the third team to receive 100 or more goals against Manchester United in the English Premier League era as follows: 112 goals against Newcastle, 108 goals against Everton, 100 goals against West Ham.
Cristiano Ronaldo has scored goals in every game he has played since his return to Manchester United: two against Newcastle, one against Young Boys in the Champions League, and one against West Ham today.
David de Gea saved a penalty kick in the Premier League for the first time since October 2014. He has each conceded the last 21 penalties.
Manchester United's balance rose to the 13th point in the English Premier League standings, with a goal difference from the leaders Liverpool, while West Ham's balance freezes at point 8 in eighth place.
Said Benrahma advanced in favor of West Ham in the 30th minute, with a powerful shot that hit Frenchman Raphael Varane to block De Gea's net.
Cristiano Ronaldo scored the equalizer against West Ham, in the 35th minute of the first half, and in the 89th minute, Jesse Lingard scored Manchester United's second goal against West Ham, with a great shot.