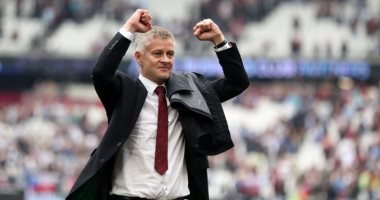 Ole Gunnar Solskjaer, coach of the Manchester United team, spoke about the victory of the Red Devils at the expense of West Ham United 2-1 in the match that brought them together today, Sunday, at the "London Olympic Stadium", in the fifth round of the English Premier League.
"We deserved to win and were the better party in the match, and I can't understand the referee's decision not to count penalties," Solskjaer told Sky Sports after the match.
The Manchester United coach added, criticizing the defensive mistakes in the first half, "You can't take risks when you defend, the offensive ball, just movement is not enough, we have to work defensively better, this is something we will work on."
"Very happy for Jesse, it was a difficult evening on Tuesday, he was impressed, he is a positive boy, very happy for him, good turnaround for him, good ending," Solskjaer said of Jesse Lingard.
Manchester United
Solskjaer added of Jesse Lingard, "He went to the dressing room after the mistake against the Young Boys and apologized to the team, everyone said it was not necessary, he participated today and it was great, this is football, you have to learn to live with the rise and fall of the level."
Solskjaer praised goalkeeper De Gea, saying, "He's a different guy who was adamant about coming back early for pre-season. He wanted to show how good he is. He's very focused, and of course he saved us two points today."
"The first and the last were two penalties, without a doubt," Solskjaer said about Ronaldo falling 3 times in the penalty area.
Manchester United
Solskjaer stressed, "The second half was better for us, a great reaction. That was the important thing for me, how will you react when you're 1-0 down?"
And the Manchester United coach spoke of Ronaldo and Bruno Fernandes: "The two of course have to work together, for me, they are great players. Cristiano arrives in the box as he always does."
"My two penalties were rocky, I hope it's not 'Cristiano will never get a penalty'," Solskjaer continued.