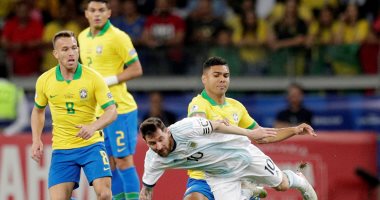 The confrontations of the Brazilian and Argentine national teams are always full of excitement and rivalry due to the great history of the two teams, whether at the continental or international level.
The Seleção will face its guest, the Tango Dancers, in the Super Classico, which will be held at 9:00 pm on Sunday, at the Arena Corinthians, as part of the sixth round of South American qualifiers for the 2022 World Cup in Qatar.
Looking at the results of the two teams' confrontations in recent years, the Brazilian team achieved 5 victories, while the Argentine team won 4 times, while only one match ended in a draw.
The Brazilian team beat Argentina 2-1 in a friendly in September 2021, then the tango dancers succeeded in winning the next confrontation with the same result in a friendly as well, before returning to Seleção again to win a friendly with two goals without a response.
The positive tie settled 1-1 against the two teams in the 2018 World Cup qualifiers, then Brazil won 3-0, before Argentina regained the tone of victories against its rival, but friendly with a goal without return, and then Seleção achieved two consecutive victories with a score of 1-0 in friendly and 2-0 In Copa America 2019.
Argentina managed to win the last two matches against its Brazilian counterpart, the first with a goal free of charge, and the last with the same result, but in the final of the last edition of the Copa America 2021, which was held in Brazil.
The Brazilian team hopes to win the match to continue to lead and avenge the Argentine Tango stars after losing to them in the last Copa America final.
Brazil raised its score to 21 points at the top of the South American qualifiers table, after defeating its host Chile, with a clean goal, in the meeting that brought them together in the early hours of Friday morning, at the "Monmental David Orlano" stadium, in the capital, Santiago, in the ninth round matches. From the qualifiers, 6 points ahead of Argentina, the runner-up with 15 points, who beat Venezuela 3-1.