smoking One of the bad habits harmful to health, which leads to many serious complications, because nicotine in cigarettes infiltrates the lungs, and then turns into a substance called cotinine, which leads to common lung and respiratory diseases.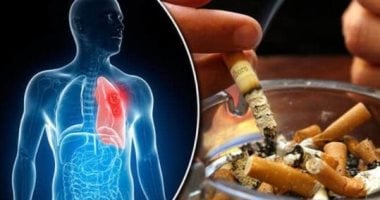 According to a report published on the verywellhealth website, stopping smoking will show its effects on your body. If you decide to quit for a month, many variables will happen to your body.
1. The disappearance of nicotine in the blood
If you decide to stop smoking, the nicotine will disappear within one to three days.
2. The disappearance of nicotine present in the urine
The level of nicotine in the urine can usually be detected within 3-4 days after a person stops smoking. For passive smokers, a nicotine urine test can be detected as positive for 15-20 days.
3. Adjust heart rates
One of the good effects after quitting smoking is lower blood pressure and heart rate than it was before while smoking. When people start to quit smoking, heart rates return to normal levels again.
4. Withdrawal syndrome
A person experiences nicotine withdrawal syndrome, which is accompanied by many signs, including anxiety, frustration, extreme tension, drowsiness or insomnia, increased appetite, headache and tingling.
5. Decreased risk of heart attacks
The probability of heart attack for smokers is more than that of a group of people who do not smoke, and it reaches 70%, and after a person commits to quitting smoking, the risk of heart attack that haunts smokers is significantly reduced.
6. Lung cell regeneration
After a person stops smoking for a month, the lungs will undergo a regeneration process, as inside the lungs there are cilia like smooth hairs that come out of the mucus and improve lung function and reduce the likelihood of a person getting infections such as exposure to coughs and colds.
7. Reducing the risk of heart disease
Cigarettes damage the artery wall and block the arteries due to the accumulation of fatty substance in the body, and when you quit smoking, the risk of heart disease (coronary, angina, stroke) will drop dramatically up to 50% compared to those who smoke.
8. Reducing the risk of oral cancer
If a person succeeds in quitting smoking, the risk of developing diseases such as cancer of the mouth and cancer of the throat, larynx and bladder will be reduced by 50%. The risk of developing cancers such as cervical cancer will also decrease as the risk of people who never smoke, and the risk of stroke will drop significantly after two to five years of stopping smoking.