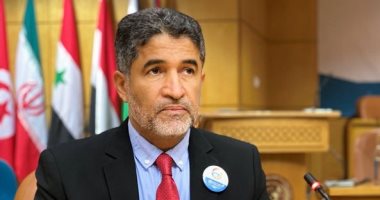 Dr. Ahmed Al-Mandhari, Regional Director for the Eastern Mediterranean, revealed, in a statement today, that diabetes remains one of the major public health challenges in the region, as it has reached epidemic levels affecting more than 55 million adults, and its social and economic impact is increasing.
He explained that the high prevalence of the disease increases the burden on countries' ability to ensure regular and affordable access to essential medicines and appropriate care, and the disruptions in health services due to the pandemic emphasized the need to restore health services, maintain their continuity and strengthen them, for prevention. of diabetes and its control, within the framework of the national strategic plans for preparedness and response to Corona disease.
As we strive to make the vision of "health for all by all" a reality, we must also remember that health can be a bridge to peace, he said.
"In previous years, we succeeded in calling for health to be a bridge to peace, negotiating a ceasefire for vaccination campaigns and other life-saving activities, and these efforts have become even more important now as we move forward in our collective response to combating the Corona pandemic, and responding to emergencies," he said. continuing to face our region.
He added that the Corona pandemic has constituted an unprecedented crisis at the global level, as well as at the level of the WHO Eastern Mediterranean Region, in which about 700 million people live, and includes some of the world's highest income countries, but, despite that, it also includes fragile countries affected by conflicts and suffering From crises and internal displacement, this pandemic has exacerbated human suffering, turned the lives of millions upside down, and had a significant impact on the health, economic and social sectors, and the region's diversity posed many challenges to the response to the Corona pandemic, and this diversity emphasized the importance of involving local communities in supporting Various public health measures and social measures taken to manage them.
He stressed that the Corona pandemic revealed the existence of gaps in the field of investment in preparedness for health emergencies, which has made health systems in the world largely unprepared to confront the outbreak of pathogens that can turn into pandemics, and if these gaps are left unaddressed, it will weaken our ability to To address the threat of epidemics and pandemics in the future, and an action plan will be presented to the Regional Committee to end the Corona pandemic, and to prevent and combat future health emergencies in the Region, for the Regional Committee to consider this plan and the possibility of approving it.
He also added that the Corona pandemic stressed the need for effective public health surveillance, as early detection of potential threats to public health, and monitoring of cases and deaths caused by diseases is critical to direct effective measures to prevent and control diseases, and surveillance systems suffer, in many countries, from fragmentation through Disease-specific programs, which impair their ability to detect potential threats.
WHO proposes an integrated approach to disease surveillance in the Region using a single electronic platform in order to improve the efficiency and effectiveness of health information systems in the use of data, to guide decisions and early detection of epidemics and to ensure more effective prioritization, planning, resource allocation, monitoring and evaluation, which may lead To avoid large-scale economic disruption due to future epidemics and pandemics.
He said polio eradication remains a prominent item on the agenda of the regional committee this year, noting that as of August 8, 2021, only one child has been reported infected with wild poliovirus in Afghanistan and one child in Pakistan, which is much less than the number of infections recorded in the same period. from last year (34 children in Afghanistan, 63 children in Pakistan).
However, polio eradication efforts have been hampered by the large and widespread disruptions to vaccination and other public health initiatives due to the pandemic, in addition to insecurity and reluctance to take vaccinations, and the ban of vaccination campaigns in large areas of Afghanistan.