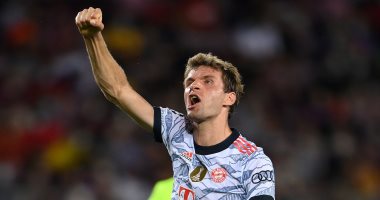 Bayern Munich star Thomas Muller spoke about the reasons why he always scored against Barcelona, ​​​​after his team's victory over Barca 3-0 in the match that was held at the "Camp Nou" in the framework of the first round of the group stage of the Champions League.
Thomas Muller scored the first goal for Bayern Munich in the 33rd minute of the first half, after his shot hit Barcelona defender Eric Garcia to change its direction towards the net of German goalkeeper Marc-Andre ter Stegen.
"We didn't allow them too much in defence, going forward we could have scored one or two more," Muller said, according to German newspaper Bild. Great and a really important signal, we are very happy."
Thomas Muller explained his reasons for signing up for Barcelona: "Because it is a team that likes to play open football, and as an attacking player, you get more space than you get against the defensive blocks."
Thomas Muller scored more goals against Barcelona than any other player in the history of the Champions League (7 goals in 6 matches).
The global network "Opta" specialized in football statistics and numbers revealed a historical negative number that occurs for the first time for the Spanish club Barcelona, ​​​​after the heavy defeat that the Catalan team suffered for Bayern Munich 0-3 in the match that was held on Tuesday evening at the "Camp Nou" stadium. Group E in the UEFA Champions League for the current season 2021/2022.
The network said: "Barcelona lost three consecutive matches at home in European competitions for the first time in its history 0-3 against Juventus, 1-4 against Paris Saint-Germain and 0-3 against Bayern Munich."
The network indicated that Barcelona lost the three matches with a score of 10/1 in one of the most confrontations in which the team received goals at home and among its fans.
Thomas Muller scored the goal for Bayern Munich in the 34th minute of the match.