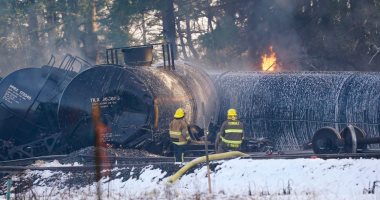 A fire broke out in a train loaded with crude oil after it derailed in Whatcom County, Washington, USA, and authorities issued evacuation orders within a half-mile of the accident site, and the BNSF Railways said in a statement on Twitter that the train veered off course and five cars derailed.
It indicated that a fire broke out in the last train cars and that emergency response crews were working to assess the situation,
The evacuation was announced on the Internet by the Washington state public relations official, who urged all "residents and visitors" to leave the vicinity of the burning train, as the evacuation area includes an elementary school, church and many companies. The cause of the accident has not yet been determined and the occurrence has not been reported. Injuries so far.
The accident occurred in Custer, a small town of less than 400 people and located just miles from the US-Canada border.