From the story of two pioneers of feminism in Madrid to that of the inspiring newspaper in India run by women without resources. We recommend five female stories in documentary form to commemorate 8-M, Women's Day, which returns to the streets two years later.
'For being a woman' (2021), in Filmin
The singer Julia León and the teacher Luisa Postigo, from Falange and Opus Dei families, were pioneers of feminism in Madrid with Franco still in power. They managed to flee their conservative environment and became part of the Communist Party in hiding. Now, they explain their personal experiences and how their fight has changed in all this time. They tell León's niece, the actress and director Mercedes Resino. A very interesting chat between lifelong friends. The film is part of the Filmin catalog and, for non-subscribers, there is the possibility of renting it for 3.95 euros.
'Tina' (2021), in Movistar Plus+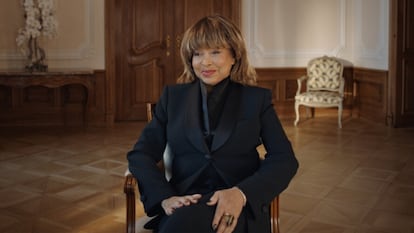 Another pioneer in many things, the singer Tina Turner, gave an interview in 1981 to the magazine People to share a harrowing story. In it she revealed the abuse and torture that she had experienced with her husband and her partner on stage for 16 years, Ike Turner. When one night she decided to run away from that marriage, the American began to recover her artistic and personal voice. Her fame and professional recognition grew in the following years, but the consequences of her mistreatment were still present. She tells it in this documentary by Dan Lindsay and TJ Martin, winners of an Oscar for Undefeated (2011).
'Writing with fire' (2021), in Filmin
Inspiring and vital, this documentary from the Sundance festival records the backroom of the only newspaper in India run by Dalit women, from a caste marked by poverty and lack of opportunities. Editor Meere and her reporters break ground, overcoming all personal and social obstacles to give new meaning to the term "powerful." Her achievements are recorded in this documentary by newcomers Sushmit Ghosh and Rintu Thomas. The film is part of the Filmin catalog and, for non-subscribers, there is also the possibility of renting it for 3.95 euros.
'Saudi Women's Driving School' (2019), on HBO Max
It was not until mid-2018 that women in Saudi Arabia regained the right to drive, lost decades ago. Erica Gornall, who made her directorial debut in the documentary genre with an episode of the well-known series Catching a Killer from Netflix, shows this time how some of them adapt to a change that, due to its daily nature, is substantial in their lives and an important step for their freedom and independence. For three months, together with his team, she tracked the progress of some of the first students at a driving school in the country's capital, Riyadh.
'To the conquest of Congress' (2019), on Netflix
The non-fiction genre is not without its emotions, as this film demonstrates. It is a tour of the campaign of four women who tried to break with the establishment in the US municipal elections. One of them, Alexandria Ocasio-Cortez, has become an international symbol. With this Sundance crowd favorite Rachel Lears documentary, she had enough vision to record the congresswoman's beginnings in politics. Now it serves as a document that was the origin of an unexpected triumph and a whole media phenomenon.
You can follow EL PAÍS TELEVISION on Twitter or sign up here to receive our weekly newsletter.
Exclusive content for subscribers
read without limits