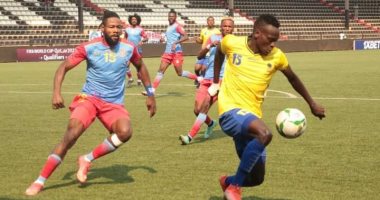 Argentinian Hector Cuper, the former coach of Egypt and the Republic of Congo, started the World Cup qualifiers with a positive 1-1 draw in the match that brought him and his counterpart Tanzania in the first round of the tenth group of African qualifiers for the 2022 World Cup, in the confrontation hosted by the "Lubumbashi" stadium. ", the stronghold of the Mazembe team.
Today's match is the first official match in which the Argentine coach is playing his career in leading the Congo national team, during which the Egyptian Mahmoud Fayez, a former Pharaohs performance analyst, helps him.
The Congolese team opened the goals of the match through Kuwaiti-Kuwait striker Diomersi Miukani in the 23rd minute of the match, before Simon Msuva equalized for the visitors in the 36th minute of the match.
Mboukani has reappeared with his country since the 2017 African Nations Cup, where he raised his catch of international goals to 19 goals, enhancing his score as a historical scorer for the Panthers team.
The Democratic Republic of the Congo plays its next match in Benin on Monday, while Tanzania hosts Madagascar on Tuesday..
The group also includes the teams of Madagascar and Benin, and they meet at six in the evening today.
In the fifth group matches, Uganda imposed a goalless draw against its host Kenya, in the group that also includes Mali and Rwanda, where Mali won yesterday with a goal without a response.