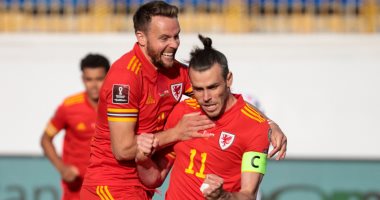 Welsh star Gareth Bale, Real Madrid's Spanish player, succeeded in breaking the scoring jinx that afflicted him with his country in the recent period, after scoring a "hat-trick" that led Wales to a fatal victory over his counterpart Belarus, 3-2 in the confrontation that took place between them today, Sunday, in the European qualifiers for the 2022 World Cup.
And the "Opta" global network specialized in statistics and records, stated that Bale scored again with the Wales national team after 17 international matches, and only once achieved a longer number without scoring with his country, which is 20 matches during the period from 2007 to 2010).
The Real Madrid star also managed to end a series of 3 consecutive penalty kicks missed by the Wales national team, excluding penalty shootouts.
Gareth Bale scored his last international goal for Wales in October 2019 against Croatia.
Bale became the first player to score a hat-trick in an official match for Wales since Ian Rush in the World Cup qualifiers against the Faroe Islands in 1992.
Gareth Bale is the first player from Wales to score a hat-trick for the national team since the same player against China in March 2018 in the friendly match.
Real Madrid's Gareth Bale opened the goals for Wales in the 6th minute with a penalty kick, then equalized for Belarus, Vitaly Lisakovic in the 29th minute.
Pavel Sedko snatched the lead for Belarus in the 31st minute, and Gareth Bale, the royal wing, grabbed the equalizer for Wales in the 69th minute of the match.
And in the 93rd minute of the match lost time, Gareth Bale managed to snatch a fatal victory for Wales, by scoring his third goal in the match, "hat-trick" and extracting 3 expensive points.
With this result, Wales' score rises to 6 points in third place in the table of Group D standings, while Belarus's tally is frozen at the point in fourth place with a goal difference.