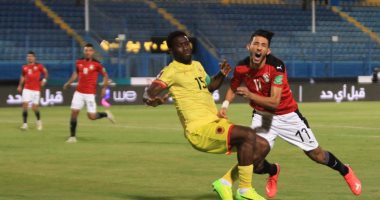 The Egyptian team, led by Hossam El-Badry, topped the standings of Group F in the African qualifiers for the 2022 World Cup, after it managed to advance with a clean goal at the expense of Angola.
Mohamed Magdy Afsha managed to convert a penalty kick in the fourth minute of the match after blocking Ahmed Fattouh in the penalty area.
The Egyptian team benefited from the positive tie in which the Libyan team decided the activities of the first half against Gabon in the match held at Al-Awwal Stadium.
Gabon advanced with a goal by Andrea Biogo Boko in the 11th minute of the match, before Libya equalized through Ali Salama in the 27th minute.
Hossam El-Badry, the technical director of the Egyptian national team, announced the formation of the Angola match, and it came as follows: Mohamed El-Shennawy, Ahmed Fattouh, Ahmed Hegazy, Mahmoud El-Wensh, Baher El-Mohammadi, Tariq Hamed, Amr El-Sawlia, Sayed Zizou, Mohamed Afsha, Hussein El-Shahat and Mohamed Sharif.
The match will be managed by a Malian referee team led by Bobo Traore, assisted by Modibo Samak, Baba Yumboleba and Mahamadu Keita as fourth official, and Mohamed Sanusi from Nigeria will monitor the match.
An unexpected start from Angola, who started putting pressure on the Pharaohs and missed a very dangerous opportunity in the 2nd minute of the match, after hitting a ball that passed next to the post.
The team's response came quickly, with a strong penetration from Ahmed Aboul Fotouh, for the Angolan defender to block him inside the penalty area, so the referee awarded a penalty kick in the 4th minute, which was successfully translated by Mohamed Magdy Afsha, strongly to the right of the Angolan goalkeeper, who moved with her, but the net inhabited the net, announcing the team's advance early.
Hussein Al-Shahat missed the opportunity to score the second goal after he failed to convert Ahmed Sayed Zizou's cross from the far right to Hussein, who put it outside the goal in the 6th minute.
The Angolan team surprised the Pharaohs with a dangerous attack in the 7th minute, after Angola striker Fabio penetrated and hit a ball that passed past Mohamed El-Shennawy's goal, to miss the opportunity to equalize in the middle of the disillusionment that enabled the Pharaohs' defenders.
Angola defender Ahmed Sayed Zizou was denied the second goal of the Pharaohs after he blocked his shot after a distinguished cross from Mohamed Magdy Afsha passes from Mohamed Sherif to find Zizou, who shot but was hit by Angola defender's foot in the 14th minute.