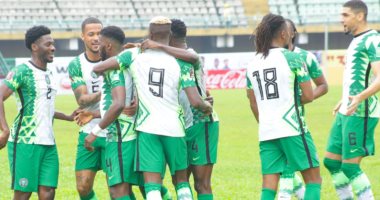 Nigeria defeated Liberia, 2-0, in the match between the two teams, at the Teslaim Balogun Stadium in Lagos, in the first round of Group C of the African qualifiers for the 2022 World Cup.
Leicester City striker Kelechi Ihyanacho scored both goals for Nigeria in the 22nd and 44th minutes.
The Central African and Cape Verdean teams had a positive 1-1 draw in the same group on Wednesday.
In the next round, Nigeria will host Cape Verde on Tuesday, while Liberia will host its Central African counterpart on Monday.
In the second group matches, the Mauritanian national team fell at home to its guest, Zambia, with two goals against a goal in the meeting that brought them together at the Olympic Stadium in Nouakchott.
The goals of the Zambia national team, Enoch Mwebo and Prince Mumba, scored in the 10th and 57th minutes, while Mamadou Nias, the newly transferred El Entag El Harby striker for the Arab Mokolon team, scored the only goal for Mauritania in the 69th minute.
The second round of African qualifiers for the World Cup (group stage) consists of 10 groups, in each group 4 teams face each other back and forth, and the first place qualifies for the third and final round.
In the same group, Tunisia and its guest Equatorial Guinea will meet at the "Rades" stadium at nine in the evening.
The third round is a knockout round, like the first round, where each of the ten teams faces their opponent back and forth, and the winner qualifies for the 2022 World Cup.