A group of citizens found a rare penguin in the shores of New Zealand, at least 3000 km from its natural habitat in which it lives exclusively in Antarctica, in an accident that is the third of its kind, according to Russia today.
A penguin was found, which the locals called PinguLost on the coast, he was found by a man named Harry Singh and his wife when they were walking on the beach in Bridlings Flat, a settlement south of Christchurch.
"At first I thought it was a game, but suddenly the penguin moved its head and then I realized it was real," Singh said in a press statement.
Singh called the rescuers, worried that the penguin had not entered the water, making it a target for other predators roaming the beach. "We didn't want it to end up in a dog or cat's stomach," he said.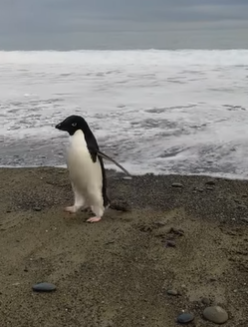 Penguin
Blood tests conducted on the penguin showed that he was slightly underweight and dehydrated, and he was given feeding fluids through a dedicated tube, and is due to be released later on a safe beach on the Banks Peninsula..
This is the third incident in which a penguin has been found off the coast of New Zealand, after two accidents in 1993 and 1992.
"Penguin finds are still rare in New Zealand, but if more of them appear in the future, it could be a worrying sign of changes taking place in the ocean," says Philip Seddon, professor of zoology at the University of Otago.