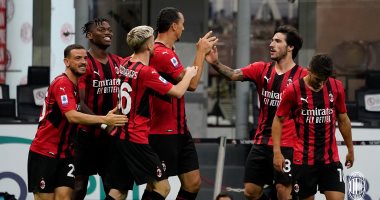 One of the strongest Champions League matches this season 2021-2022 will be held at nine in the evening, Wednesday, between Liverpool and Milan at "Anfield", as part of the first round of Group B competitions.
The professional Liverpool team, within its Egyptian international ranks, Mohamed Salah, is competing in Group B of the Champions League, with Atletico Madrid, Milan and Porto in the strongest Champions League groups this season.
The numbers for AC Milan against English teams in European competitions are as follows:
game 38 match
11 win over
12 Draw
15th defeat
43 register
45 received
Throughout its history and during 18 matches played on English soil, Milan achieved only one victory and came at the expense of United at Old Trafford with a score of 1-0 in 2004/05.
Milan's numbers in European competitions on English stadiums are as follows:
18 match
1 win over
7 Draw
10 defeat
Liverpool faced Italian teams in the European finals 4 times, winning two titles against Roma 1984 and Milan 2005 and lost twice, against Juventus 1985 and Milan 2007.
In the Liverpool match against Milan, the Egyptian star, Mohamed Salah, is looking for his 26th goal in the European Champions League over the history of his participation with the Reds, in the continental competition.
On the other hand, the Italian team Milan, led by Stefano Pioli, is going through a stable period in the Calcio competition this season.
Milan made a more than wonderful start in the Italian league this season, achieving 3 consecutive victories in the tournament, to share the top of the competition table, with 9 points, with both Roma and Napoli.
Milan fans around the world are waiting for the Rossoneri to return to the glories of the European Champions League again, despite the difficulty of the group in which the Italian giant competes.