Alec Baldwin and other producers on the film "Rust" asked a court Monday to dismiss a civil lawsuit brought against them by the project's script supervisor, who says the fatal shooting on the New Mexico set last October left her with severe emotional trauma.
Their request in Los Angeles Superior Court regarding the November lawsuit argues that script supervisor Mamie Mitchell should instead seek relief through a New Mexico workers' compensation claim, not through a lawsuit in California, because the shooting was unintentional.
"She claims, 'Mr. Baldwin chose to play Russian Roulette with a loaded gun without checking it and without having the Armorer do so.' 'Russian Roulette,' however, is intentionally firing a gun that is known to be loaded with a single live round ― not failing to double-check a gun that has been announced to be 'cold,'" Monday's filing states.
Mitchell says she was near the scene when Baldwin, who was also acting in the film, fired a revolver that had been given to him as a prop, killing cinematographer Halyna Hutchins and wounding director Joel Souza. Mitchell made the 911 call alerting authorities about the tragedy.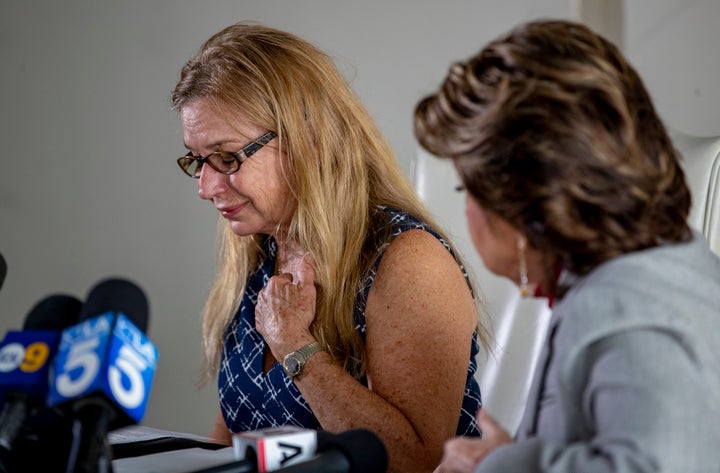 "I'm depressed. I don't feel safe. I feel like at any moment anything could happen to me and to those that I care about that are standing close to me," Mitchell said at a news conference when she filed her lawsuit. "I don't have a sense of guardrails in my life to keep me safe. I'm frightened of the future. This violent tragedy has taken away the joy in my life."
Mitchell and her high-profile attorney, Gloria Allred, say that what happened on set went beyond simple negligence. According to the script, which Mitchell was very familiar with because of her role, Baldwin "cocked and fired the loaded gun even though the upcoming scene to be filmed did not call for the cocking and firing of a firearm."
Mitchell and Allred also highlighted a pattern of similar problems on set, noting that members of the camera crew had quit over safety concerns before the fatal shooting and that there had been at least two other incidents in which weapons were accidentally discharged on set.
Allred said in a statement that she's not concerned about Monday's motion, saying Baldwin and the other producers are simply "trying to avoid explaining their conduct before a judge and a jury in a court of law."