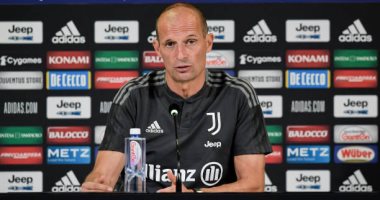 Juventus coach Massimo Allegri confirmed the absence of South American players from the Napoli match, scheduled for tomorrow, Saturday, at Diego Armando Maradona stadium, in the third round of the Italian League for the current season 2021-2022.
Speaking at the match press conference, Allegri said:Juve's goals are to always be competitive in all competitions in March, then we have to improve and we have to grow above all as a team and the results definitely help with that, we have to be good at that regardless of our results.".
He continued, "We arrived calmly, but there is no need to rush, there are many matches, we have to focus on each match separately, but in the meantime let's think about tomorrow."".
On the shape of the match he expects against Napoli, Allegri said: "It will be a good match for sure because we are facing a technically strong team and in a good moment. Tomorrow it will not be difficult to choose the formation because I have few options. I chose to leave the South American players in Turin.".
He continued, "Tomorrow we will play without a lot of players, we will leave the South American players, this is the calendar and we have to accept it, we have only 13-14 players plus three boys, the players who played tonight arrive in Italy on Saturday morning, and their presence in Napoli puts them at risk of injury." And that doesn't make sense."
He continued, "They will stay at home and rest, on Tuesday we have an important match because it is the first match in the Champions League and it is the most important in the group. You have to decide what we do if we all express our opinion, there will be chaos, we have to accept what they tell us."
On goalkeeper Szczesny, he said: "Apart from the Udinese match, Szczesny performed very well against Empoli, he is the main goalkeeper also, Perin is a good goalkeeper.".
And about Moise Kean, he said:I found Kane well, he's young and he did well at PSG, we wanted that and he would have arrived regardless of Cristiano Ronaldo leaving.".
And if Ronaldo's departure put him in trouble, Allegri indicated: "Cristiano no longer wants to play for Juventus, he left and anyway it would have been his last year, we made this choice for a year, we wish Cristiano the best, but life goes on, I am not interested in talking than it was".
"As long as Juventus wins as a group and has that in its DNA, to be competitive and try to win, we must have big ambitions, great self-love and above all passion for what we do."
And about the whistles in the Empoli match, he said: "It is normal, and certainly they will not be able to applaud us after the defeat at home … After the first 60 minutes in Udinese everything seemed to be going well, but then everything turned upside down. ".
He concluded, "Napoli is one of the favorites to win the Scudetto, but the championship is still long. We have to think about match after match. There are many games and there is time to recover. There is no need to rush."
Juventus occupies twelfth place in the Italian league table with one point from two matches, while Napoli is in fifth place with 6 points, with a goal difference from leaders Lazio.