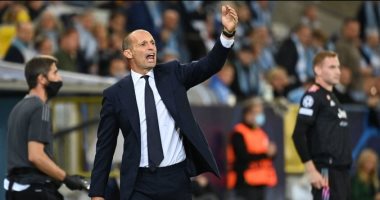 Massimo Allegri, coach of the Italian Juventus team, expressed his happiness after achieving a wide victory at the expense of Malmo, Sweden, 3-0 in the match that was held on Tuesday evening at the "Malmö Stadion", in the framework of the matches of the first round of the eighth group of the European Champions League, in a match that is looking into The Italian football representative on correcting the path under the new coach, Massimo Allegri.
After the match, Allegri said: "When you play in the Champions League, there are always expectations, the first appearance away from home after three matches without results there was pressure."
The Juventus coach added: "The youth played a good game on a technical level, in some situations we could have done better, we need to improve."
"But the path that started on July 14 does not change, the results determine the final verdict, you have to be good at staying balanced," Allegri stressed.
"It's a sign, I asked for it at half-time," Allegri said of the clean sheet?
Allegri continued: "We had to win, or else the task would be more difficult."
Allegri continued about Milan?: "We need to set a goal for ourselves and then see where we get. Milan is playing very well and technically very strong, it is living a moment of great enthusiasm and for us it should be a motivator."
And Allegri continued: "The mental side is 90% of all the work, when you lose points in the league you sometimes play badly and with individual mistakes like in Udine and Napoli, you see things more negatively."
Allegri explained: "In the 2015/2016 season, we conceded a goal from Sanson's free kick from Sassuolo's only shot, and we conceded 8 goals. On the way back, we won a bad match, and we played badly. We must always distinguish between the result and the performance."
Allegri stressed: "The two midfielders today have not played together before and have given a lot. Rabiot is an excellent player, he does not know his abilities yet."
With this result, Italian club Juventus topped the Group H standings with a goal difference from defending champion Chelsea, who defeated Russia's Zenit with a clean goal.