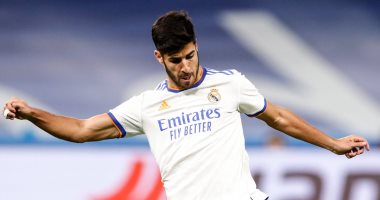 Real Madrid's Spanish striker Marco Asensio, who appeared for the first time this season with "Merenge" and scored three "hat-trick" goals in the wide win over Mallorca (6-1), said that he worked a lot to reach this moment.
In televised comments after the match, Asensio said: "I am very happy, I had the opportunity to start and I knew I had to take advantage of it, I worked a lot for this moment."
The young star considered that he showed his Italian coach, Carlo Ancelotti, his abilities in order to exploit them for the benefit of the team. "I've shown that you can count on me. There is a lot of competition here and it's important to be ready when you get the chance and that's how it was."
On the outstanding performance that comes as the player is positioned in a new position for him this season as a midfielder, he added: "It is clear that it is a good position for me. I can play in many positions and I will do so where the coach puts me."
The young star wore the dress of proficiency in Real Madrid's sweeping victory over its guest, Real Mallorca, after he scored a "hat-trick", in the match that was held today, Wednesday, at the (Santiago Bernabeu) in the sixth round of the Spanish first division football "La Liga".