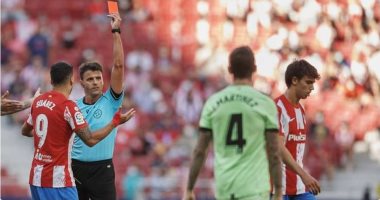 Joao Felix, Atletico Madrid player, scored a negative number after receiving the first red card in his football career during the confrontation with Al Roja Blancos against its guest Athletic Bilbao, in the match that ended in a goalless draw between the two teams, on Saturday evening, in the fifth round of the Spanish League competition "La Liga." For the current season, which was held at the "Wanda Metropolitano" stadium.
The Opta network, which specializes in statistics and records, reported that Joao Felix received a red card for the first time in 139 matches in his football career.
The Portuguese star became the second youngest player (21 years and 312 days) to be expelled with Atletico Madrid in the Spanish League under the leadership of Diego Simeone after Renan Lodi (21 years and 132 days).
Atletico Madrid

Portuguese Joao Felix, player of Atletico Madrid, was sent off in the 78th minute; For his objection to the referee after receiving a yellow card.
With this result, Atletico Madrid, led by coach Diego Simeone, occupies the top spot in the La Liga standings with 11 points, one point ahead of Real Madrid and Valencia, who meet on Sunday at the Mestalla stadium, while Athletic Bilbao occupies fourth place with 9 points.
Atlético Madrid had recently fallen into the trap of a goalless draw against its Portuguese guest, Porto, in the match that brought the two teams together, last Wednesday evening, at the "Wanda Metropolitano" stadium, in the first round of the second group stage of the Champions League group stage.