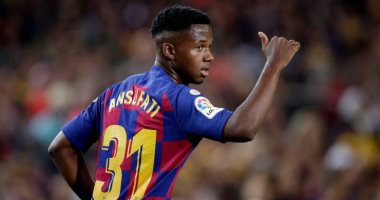 Barcelona winger Ansu Fati is preparing to return to Barca, after being absent from the team since last November, after suffering a severe knee injury.
Barcelona winger Ansu Fati suffered a meniscus tear in his left knee on November 7, 2020, after a violent intervention from Betis player Issa Mandy, and he underwent urgent surgery.
According to the Catalan newspaper, "Sport", Ansu Fati will return to Barcelona's list for the first time, against Levante in the match scheduled for next Sunday, in the seventh round of the Spanish League competition.
She added that Ansu Fati has reached the stage of readiness required to participate in the matches with Barcelona, ​​after completing the rehabilitation process for his injury and returning to the Blaugrana training.
She explained that Ansu Fati was supposed to join Barcelona's squad against Cadiz, in the match that was held at ten in the evening, Thursday, in the sixth round of the League, but Ronald Koeman, the Catalan coach, preferred not to risk him and return to Levante.
The Barcelona team is facing a risky confrontation against Cadiz tonight, the result of which controls the future of Dutch coach Ronald Koeman.
It is worth noting that Barcelona is in eighth place in the Spanish league standings, with 8 points.