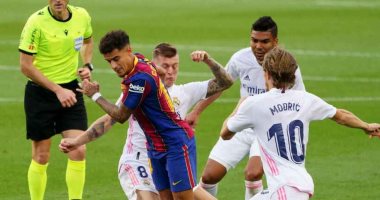 The Spanish League, "La Liga", announced today, Thursday, the date of the first Clasico match in the current season 2021-2022, which will bring Barcelona with its arch-rivals Real Madrid, in the tenth round matches, at the Camp Nou, the stronghold of the Catalan team.
The El Clasico match between Real Madrid and Barcelona will take place on Sunday, October 24, at the Camp Nou, at 4:15 pm Cairo time.
The last 3 matches between the two Spanish football giants in La Liga witnessed the royal team excel by winning all of them, while the last victory of the Catalan team was during the month of March 2019.
Real Madrid leads the Spanish league standings this season with 16 points, and the royal team won 5 games and drew one, during 6 rounds of the current La Liga season, after beating Alaves 4-1, Real Betis 1-0, Celta Vigo 5 – 2, Valencia 2 – 1, Real Mallorca 6 – 1 and tied with Levante 3 – 3.
And the "Opta" network, which specializes in monitoring statistics, stated that Real Madrid achieved the best goal scorer after 6 rounds of La Liga during the current century, with 21 goals, since the 1987-1988 season, when he scored 26 goals after the same number of rounds.
On the other hand, Barcelona is ranked eighth in the Spanish league standings, with 8 points, before facing the Cadiz team at ten in the evening, Thursday, and has a postponed match with Seville.