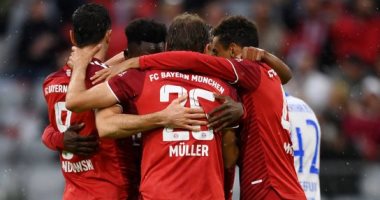 Bayern Munich will host its counterpart Bochum, at 3:30 pm, today, Saturday, at the Allianz Arena, as part of the fifth round of the German Bundesliga competitions for the current season 2021-2022.
Bayern Munich is ranked second in the German league standings with 10 points, two points behind leaders Wolfsburg, while Bochum comes in thirteenth place with 3 points..
Bayern Munich is seeking to win today's matches, to continue in the title race, while waiting for leaders Wolfsburg to stumble on Sunday, as they host Eintracht Frankfurt.
Bayern Munich began its Champions League matches by achieving a precious victory over its Spanish host, Barcelona, ​​with three goals without return, in the match that took place at the Camp Nou stadium, which demonstrated the strength of the team this season with Nagelsmann.
Bayern Munich depends in today's match on its Polish star Robert Lewandowski, who is the top scorer in the German League with 6 goals, a difference from the young Norwegian striker Erling Halland, Borussia Dortmund.
"We are not where we want to be, we are still in second place, we do not have time to rest, it does not matter who the opponent is, you always have to push your limits, and we have the ability to do that tomorrow as well," Nagelsmann said in the match press conference about the league standings.".
And about the opponent Bochum, he said: "No matter who the opponent is, you always have to give your everything, we will not underestimate anyone, although Bochum do not have a lot of points so far, but they are doing well, they will try to play the ball. Quickly, our goal is 3 points".