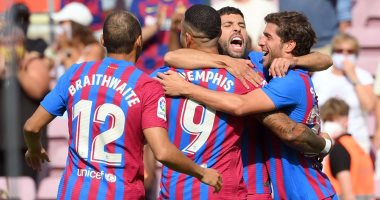 The Spanish team Barcelona will host its German counterpart Bayern Munich at nine o'clock this evening, Tuesday, at the "Camp Nou" stadium, the stronghold of the Catalan team, in the opening matches of the fifth group of the group stage of the Champions League for the current season 2021/2022 in a spherical battle that carries with it a disastrous memory of the Spanish champion After losing in the last confrontation by eight goals to two goals in the same competition.
Champions League

Fans of the round witch around the world are waiting for Barcelona against Bayern, especially since it is expected that the match will witness a great rivalry because it is considered revenge for the disastrous memory it carries for the Spanish champion after losing in the last confrontation between them with eight goals to two goals in favor of the Bavarian in the same competition.
But before the famous 8-2 match, the Catalan team had a great advantage over its German counterpart in the number of matches that witnessed the largest number of goals, as Barcelona beat Bayern on three occasions with a clean four, starting in 2006 in the final of the Gamber Cup and at the Camp Nou stadium for the same year. Barca with a clean four and star Samuel Eto'o scored two goals in the match, in addition to Ronaldinho and Saviola.
In the Champions League quarter-final, Barcelona won 4-0 for the third time in 2009, and Argentine star Lionel Messi scored two goals, while Eto'o scored one and Thierry Henry another.
On the other hand, Bayern Munich won the Champions League 4-0 in 2013, Muller scored two goals, while Mario Gomez scored one and Robben another goal.
Barcelona and Bayern Munich

For his part, Manuel Neuer, captain and goalkeeper of Bayern Munich, said that the match in which the Bavarian giant beat Barcelona with eight goals to two cannot be forgotten, but at the same time Neuer refused to take it into account before facing the two teams tomorrow in the first round of the group stage in the Champions League.
And Neuer added in the press conference held before the match: "Matches like this cannot be forgotten, but Barcelona today is a completely different team, noting that the players will have more responsibility because of the departure of Lionel Messi, and I think that they will work better tactically."
Regarding the match, he said: "We and Barcelona have gone through big changes in the list, so I think we will see two very close matches."