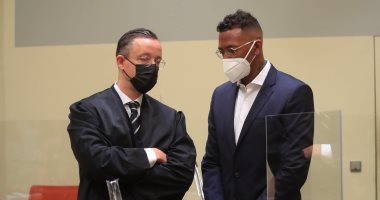 Today, Thursday, the Munich City Court issued a sentence to German Jerome Boateng, the new signing of the French team Olympique Lyon, for physically assaulting his ex-girlfriend 3 years ago.
The German court banned the player by paying a fine of 1.8 million euros to his ex-girlfriend, in addition to a one-and-a-half year imprisonment sentence with execution time.
And it was reported that the former Bayern Munich star faces the risk of 5 years in prison, because of his accusation of physical assault on his ex-girlfriend.
Jerome Boateng and his ex-girlfriend entered into many crises during the last period, as she complained to the French Olympique Lyon defender, in the struggle for her indirectly winning custody of his twins.
The events of this attack are attributed to Boateng During the duo's vacation in the Caribbean in July 2018.
It is worth noting that Jerome Boateng joined Olympique Lyonnais this summer in a free transfer deal from Bayern, and signed a contract that extends until the summer of 2023.
And Boateng had bid farewell to Bayern Munich, saying: "I am happy that I stayed 10 years in the team, I won the Champions League again, and I experienced playing under Flick, it was a great way to end things."
"Bayern is a great club, I felt at home here, I was able to explore and improve my limits, but it's true, I'm actually someone who needs something new after three to five years, that's why I look forward to what will happen now."
And Boateng talked about his beginnings with Bayern, saying, "I was very nervous and tense before the matches, especially in the first season, and that's why I made some mistakes, I played very quickly, I made stupid mistakes."