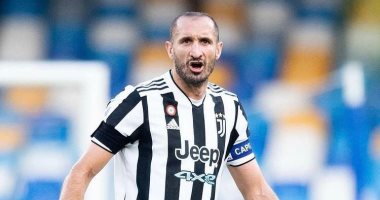 Juventus captain Giorgio Chiellini confirmed that Portuguese star Cristiano Ronaldo has become part of the past after his departure to Manchester United, and that Argentine Paulo Dybala will be the star of the team in the coming period.
Chiellini talked about Ronaldo's departure and his double in his first match with Manchester United, saying: "When you have a world-class player like Cristiano, you can only use the team to play with him, we must be grateful to Ronaldo for everything he did during these years at Juventus." But we want to keep working."
He added: "This will be the team of his star Paulo Dybala, over the past two years, his average goals have decreased due to the presence of Cristiano, but he is a key player in this team and this is recognized by everyone."
And about the defeat from Napoli, the Juve captain said: "The team was united throughout the match, so we must be satisfied and proud of what we saw, taking into account all things."
"We deserved to get a positive result, but all we can do now is work more and talk less, we knew there would be difficulties this season, although we may not be in that position after three games."
Napoli vs Juventus

Juventus ended the first half of the match with a goal scored by Spanish striker Alvaro Morata in the tenth minute of the match, after he took advantage of the error of the Greek Manolas, the defender of Naples, and hit the ball over the goalkeeper in a distinctive way.
His goal in Naples is the second fastest goal scored by Morata in the Italian league, after his goal against Chievo Verona after 6 minutes in January 2016.
In the second half, Matteo Politano scored the equalizer for Napoli in the 57th minute, after following a rebound from Szesni, the Juve goalkeeper, to put it in the net.
Strong Senegalese defender Kalidou Coulibaly added Partenobi's second goal in the 85th minute of the match, after taking advantage of a rebound from goalkeeper Chesney.
Napoli topped the Italian league table with 9 points, while Juventus' balance stopped at one point in the fourteenth place.