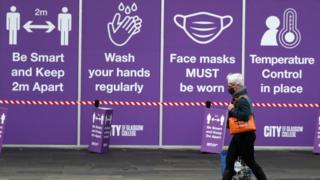 Further restrictions could be introduced "in the near future" to stop the spread of Covid-19 in Scotland, Nicola Sturgeon has said.
The first minister is to meet advisors and ministers on Monday and Tuesday to discuss fresh measures.
She said it was "vital that we do everything we can" to slow the virus and that "not acting costs lives".
Some advisors have backed the idea of a "circuit breaker" lockdown as a "short, sharp shock" to the spread of Covid-19.
National Clinical Director Jason Leitch told BBC Scotland that two weeks of heightened restrictions could push the course of the pandemic back by 28 days and "buy time" ahead of winter.
However, Ms Sturgeon stressed that the term circuit breaker could mean "a number of things", and said she would give the public and parliament "as much notice as possible" about any changes.
A further 697 cases of coronavirus were reported in Scotland on Monday, with 12.8% of people newly tested returning a positive result.
There has been a sharp increase in the number of people in hospital being treated for the virus over recent weeks, with 218 currently in hospital and 22 in intensive care.
Ms Sturgeon said this meant ministers had to take "very difficult decisions" about imposing fresh restrictions.
What age groups are testing positive?
Seven-day average per 100k
The government has consistently warned that fresh measures might need to be introduced ahead of the winter, when the NHS is under greater pressure.
Speaking on BBC Scotland's Seven Days programme, Mr Leitch said a circuit-breaker – a short period of tightened restrictions – was about "buying yourself more time" and reducing the "R number" or reproduction rate of the virus.
This measure tracks the average number of people an individual who has Covid-19 would be expected to infect, and which the government believes currently could be as high as 1.7.
Mr Leitch said a circuit breaker would not be a full lockdown like the one introduced across the country in March.
He said there might be "some choices in there about schools or about further education – but fundamentally a short, sharp shock to the R number.
"You get the R number down, you get the numbers down to a reasonable level and then you can begin to reintroduce some of the things that you've closed.
"So the idea is that a two-week, roughly, circuit-breaker, would buy you 28 days. You don't know that for sure, because it's not an exact science, but it would buy you about a month in the pandemic."
Public health officials are worried.
As cases rise, it doesn't take much to go from dealing with small outbreaks successfully to the virus spreading out of control. It becomes much harder to spot where outbreaks start, stretching the Test and Protect system.
This is why some favour the idea of a "circuit breaker". Introducing a lot of restrictions all at once – perhaps for a couple of weeks – means you can successfully drive infection rates down and you regain control.
But most experts will say that a circuit breaker only buys you time and may have to be done several times to have an impact. It goes without saying, the stricter the conditions, the bigger the difference in denting that R number, the rate of transmission.
It would make sense to do it when the schools are off and when there is still some economic support through the furlough scheme, but the October break comes at different times in Scotland – and also earlier than the rest of the UK. The first minister has also said she would prefer a four nations approach to major changes in restrictions.
This is the dilemma for the government now. Officials have to decide just how far to go and if, or when to push the button.
At her daily coronavirus update, Ms Sturgeon said she was "hopeful" that the recent curbs introduced in September – including a ban on people visiting each other in their homes – would "help us stem the increase of the virus".
However, she said: "There may well be a need for some further restrictions in the near future."
The first minister is to meet advisors to study the latest clinical advice later on Monday afternoon, and will then hold discussions with her cabinet on Tuesday.
She could potentially announce any changes at Holyrood as soon as Tuesday afternoon.
Ms Sturgeon said: "If we do decide more restrictions are necessary, I want to assure you that we will give the public and the parliament as much notice as possible.
"If we decide extra restrictions are necessary, it is because we deem it vital to get the virus under control and avoid unnecessary loss of life."
At Monday's briefing, Chief Medical Officer Dr Gregor Smith said that "applying measures in a short, sharp way" could bring down the growth rate of the pandemic while also reducing the number of cases in circulation.
Ms Sturgeon said such a move would be about "buying some time that gets you through winter". She said it was important to suppress the virus "while we're waiting on other things to happen" – such as the development of a vaccine.
The first minister also said "four nation" talks with the UK government and other devolved administrations were due to be held on Monday afternoon.