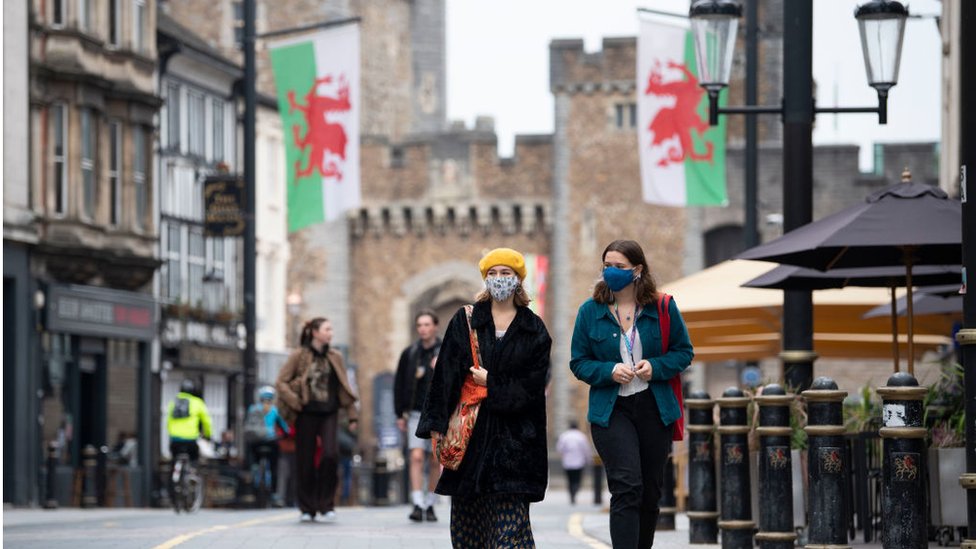 Major restrictions to people's lives are set to be introduced as Wales enters a "firebreak" lockdown.
From 18:00 BST on Friday people living in Wales are being told to stay at home.
Pubs, bars and restaurants, gyms, and all non-essential shops will be closed.
But what does it mean, and what are you actually able to do from 23 October to 9 November without breaking the law?
Can I leave my house?
Similar to during the first lockdown in March, people are being told to stay at home in a bid to curb the spread of coronavirus in Wales.
You will only be allowed to leave your house to go to the shops to buy essential food and medication, and to provide care.
You should also work from home unless it is not possible.
Can I go to the shops?
All but essential shops will close from 18:00 BST on Friday.
Can I see friends?
No. Under the new rules people cannot mix with others they do not live with.
From Friday evening you will not be able to meet others indoors, or socialise outdoors, such as in parks or people's gardens.
I live alone – can I see my family, partner or friend?
During local lockdowns people living alone were allowed to meet one other household indoors, after concerns about isolation.
From Friday, this will continue, with people who live alone being the only ones able to meet with someone who lives outside their house.
But this has to be the same person every time.
Expect to see a return to the days of Zoom chats, virtual parties, people waving at each other from the end of drives, and people leaving shopping on door steps.
Can my children go to school?
Primary and special schools will re-open as normal on 2 November after the half-term break – there is no extra time off.
In secondary schools only pupils in years seven and eight will go back to class.
Pupils sitting exams will be able to go in to take them but all other pupils will continue their learning from home for an extra week.
What about childcare?
Childcare facilities will stay open during the 17 days in a bid to keep schools open.
The first minister has repeatedly said that children are a priority.
Can I go to the pub?
No – from 18:00 BST on Friday pubs, bars and restaurants will be closed for 17 days.
This is similar to the first Wales-wide lockdown back in March. Beer gardens will be shut, and people are being warned not to drink in their friends' homes or gardens, or to gather in parks.
Pubs and food establishments will not reopen until 9 November.
Can I go to the gym?
No – gyms and leisure centres will be closed for the 17 days.
Can I go for a walk, bike ride or run?
Yes – under the new national lockdown you can leave your house for exercise.
Can I drive or go on holiday?
You can travel, but only for a "reasonable" cause.
These include trips to buy essential items – such as food and medication – to seek medical help, get a coronavirus test, or to deliver care.
You can also travel to work, but only if you are a critical worker, or you do a job where you cannot work from home.
Travelling to go on holiday will be against the law.
What if I am at university?
Cases have been confirmed at university halls of residence, with thousands of students self-isolating on campuses across Wales.
During the 17 days students have been told not to head home, but to stay where they are.First Minister Mark Drakeford added: "In the same way we are asking everyone to stay at home, if students have reading weeks or half-term they will also need to stay at home in their university accommodation."
Can I have my hair cut or a beauty treatment?
Many people resorted to home cuts during the last national lockdown back in March, with hairdressers trying to repair dodgy shaves and cuts when they reopened.
Once again, from Friday you will have to wait until you can see your hairdresser again.
Hair salons, barbers, and beauticians will be closed until the end of the national lockdown.