By Conor Macauley
BBC NI Agriculture & Environment Correspondent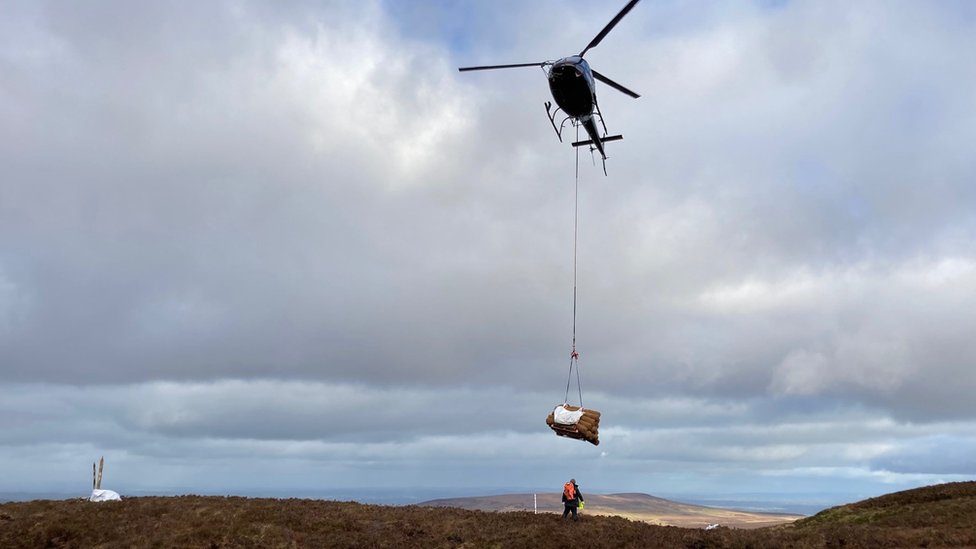 On a County Fermanagh mountain, a helicopter has flown in logs made of coconut fibres to help with the fight against climate change.
They will be used to build dams on Cuilcagh, which will help restore large areas of degraded blanket bog that are currently emitting carbon.
The dams will facilitate the re-wetting of areas which can then be colonised by sphagnum mosses.
That vegetation, layers of which build the peat, will help to trap carbon.
EU strategy
Around £100,000 is being spent by Ulster Wildlife on the project, working in conjunction with local farmers.
It is part of a wider EU-funded strategy to restore peatlands across the island of Ireland and Scotland, with £8m being spent across 27 sites.
Simon Gray is helping to deliver the plan to restore 16 hectares of degraded peatland on Cuilcagh.
'More carbon than rainforests'
He says peatland has more potential than trees as a way of offsetting our carbon emissions.
"Peatlands, even though they don't cover the same area as forests do, they actually contain way more carbon even than the rainforests do across the globe.
"We're very lucky that here in Ireland we have such a huge area of peatland – we probably have one of the greatest percentages of our landscape that is peatland and that is a massive advantage for us in terms of trying to combat climate change.
Mr Gray insisted lots can be done to repair degraded peatland across the country.
But work to repair it is in its infancy. Other parts of the UK have committed cash and have plans to get on with the job.
Wildfires and overgrazing
Around 18% of the landscape in Northern Ireland – more than 200,000 hectares – is covered by upland blanket bogs, lowland raised bogs and similar wetland habitat.
But for now, much of it is in a degraded state due to things like drainage, wildfires and historic overgrazing.
Local farmers are now learning transferable skills in this kind of project delivery.
Mr Gray explained that as peatland restoration becomes more "in vogue", they will be able to work on similar schemes elsewhere.
And it is not just the climate that benefits from this kind of landscape – they are also rich in biodiversity.
Golden plover birds nest on Cuilcagh and it is home to the impressive hen harrier, as well as at least one rare alpine flower.
Mr Gray says the restoration work on the bog is key to maintaining that mix and range of species.
Cuilcagh is a hugely popular mountain in terms of tourism. The building of a boardwalk – the so-called Stairway to Heaven – has brought tens of thousands of visitors to the area, which brings its own pressures.
But many may not realise that the blanket bog they are crossing has the potential to play such an important role in the fight against climate change and biodiversity loss.