According to press reports, dengue fever caused by a strain D2 , can cause fatal bleeding, especially after an outbreak of the disease in a number of Indian states, and doctors required people to take precautions against vector-borne diseases, which are organisms that transmit pathogens and parasites from a person (or animal).
Dengue virus serotype 2 isDENV-2 or D2) The most dangerous breeds, according to specialists according to the site " dailystar And it can cause severe illness.
According to experts, dengue can be fatal, so protect yourself from vector-borne infections by using bed nets and insect repellents and covering yourself to avoid mosquito bites, as there is not even a vaccine against dengue, so it is essential to treat it as a serious condition that may lead to problems. .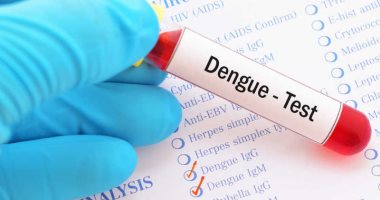 Dengue fever warning signs

Dengue fever is a viral infection spread by mosquitoes that causes high fever, headache, muscle and joint discomfort, and a rash. A person with dengue fever can experience the following symptoms:
nausea
Aches and pains
stomach ache
continuous vomiting
Insomnia
eye pain
muscle pain
headache
Although these viruses are self-limiting and do not last more than ten days, they can produce dengue hemorrhagic fever in extreme cases (DHF). It can lead to severe bleeding, a drop in blood pressure, a decrease in the number of platelets (clot-forming cells) in the blood, and even death. The last stage of . is known as DHF Dengue shock syndrome includes rapid, weak heartbeat, hypotension, cold skin, sweat, undetectable blood pressure, and shock (DSS). In extreme circumstances, immediate hospitalization is required.